Resilience, Security & Risk in Transport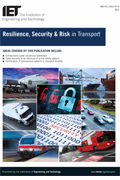 Author: Various authors

Year: 2014

Format: Paperback

Product Code: PERRSR13

ISBN: 978-1-84919-787-8

Pagination: c.64pp

Stock Status: Out of stock

The arrival date is December 2013
Your account will only be charged when we ship your item.
£36.00 Member price
£45.00

Full price
Description
Resilience, Security & Risk in Transport aims to provide engineering professionals working in, or with an interest in, the transport sector with nine papers which address critical aspects of safety and cyber security.
The need to consider security in the planning, design, build and operations of all modes of transport, vehicles and infrastructure is recognised, but the scope and scale of work needed to achieve acceptable levels of risk is not fully understood.
This emerging topic area, in relation to transport, will broaden the range of expertise that engineers and technologists need to apply to vehicles and infrastructure. To inform this debate, this 64-page IET Transport Sector publication on resilience, security and risk in transport provides technical papers that highlight the complexity of our transport systems and infrastructure.
The papers describe how the convergence of safety and security is at the heart of keeping transport resilient to internal and external threats and system failures.
Resilience, Security & Risk in Transport covers the following topics:
Protecting critical infrastructure
Cyber-security towards vehicle automation
Process safety and cyber security convergence
Intelligent buildings
Vetronics survivability strategy
Use of formal requirements
Parallel software refactoring
Certification of autonomous systems
Maritime cyber security
About the Authors
Resilience, Security & Risk in Transport is a collaborative work comprising nine papers with a foreword provided by IET President, Barry Brooks and an introduction by ITS UK's Head of Professional Services, Neal Skelton.
Each paper has been written by an expert or experts with specialist knowledge on the topics in question. All papers have been reviewed by a technical panel.
Book readership
Resilience, Security & Risk in Transport is an ideal textbook for postgraduate and advanced undergraduate students studying transport safety and cyber-security. This book will also provide practising engineers with a thorough grounding in the core principles and design issues of transport security infrastructure.
Book contents
Resilience, Security and Risk in Transport – Foreword
Resilience, Security and Risk in Transport – Introduction
Protecting Critical National Infrastructure Through Collaborative Cyber Situational Awareness - J.C. Creasey
Cyber-security as an attribute of active safety systems and their migration towards vehicle automation - Dr I. Ibarra and Dr D.D. Ward
Process safety and cyber security convergence: Lessons identified, but not learnt? - R.S.H. Piggin
Cyber security of intelligent buildings: a review - H.A. Boyes
Intrusion Tolerant System for Integrated Vetronics Survivability Strategy - O. Obi, A. Deshpande, E. Stipidis and P. Charchalakis
Practical experiences of using formal requirements and their role in an overall work-flow - D. Sexton, P. Gilhead and R. Quadir
A method for parallel software refactoring for safety standards compliance - Peter Jurnecka, Petr Hanacek, Maros Barabas, Martin Henzl and Matej Kacic
Certification of Autonomous Systems - N.J. Tudor and C. O'Halloran
Maritime Cyber Security – Securing the digital seaways - H.A. Boyes
Special Acknowledgements