Evaluation of Intelligent Road Transport Systems: Methods and Results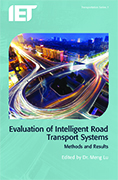 Book title: Evaluation of Intelligent Road Transport Systems: Methods and Results

Author: Dr. Meng Lu

Year: 2016

Format: Hardback

Product Code: PBTR0070

ISBN: 978-1-78561-172-8

Pagination: 456pp
£71.50 Member price
£110.00

Full price
Description
Intelligent Transport Systems (ITS) use information and communications technologies (ICT) to deliver transport improvements instead of extending physical infrastructure, thereby saving money and reducing environmental impact. This book provides an overview of ICT-based intelligent road transport systems with an emphasis on evaluation methods and recent evaluation results of ITS development and deployment.
Topics covered include;
ITS evaluation policy
frameworks and methods for ITS evaluation
ITS impact evaluation, the network perspective
field operational tests (FOTs)
assessing transport measures using cost-benefit and multi-criteria analysis
technical assessment of the performance of in-vehicle systems
opportunities and challenges in the era of new pervasive technology
evaluation of automated driving functions
user-related evaluation of ADAS (Advanced Driver Assistance Systems) and automated driving
evaluation of traffic management
performance assessment of a wet weather pilot system;
case studies from China;
heavy vehicle overload control benefit and cost research works on power system modelling
About the Editor

Meng Lu is Vice President of IBEC (ITS Benefits Evaluation Community) and of the IEEE Intelligent Transportation Systems Society (ITSS); she is active in two areas: ICT-based ITS and logistics, and has participated in many European transport initiatives and projects. Dr Lu is on the Editorial Board of IET Intelligent Transport Systems (ITS).
Book readership
This book is essential reading for researchers and advanced students from academia, industry and government working in intelligent transportation systems.
Book contents