Energy Systems for Electric and Hybrid Vehicles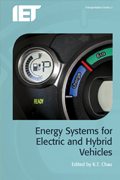 Book title: Energy Systems for Electric and Hybrid Vehicles

Author: Professor K.T. Chau (ed.)

Year: 2016

Format: Hardback

Product Code: PBTR0020

ISBN: 978-1-78561-008-0

Pagination: 520pp
£75.40 Member price
£116.00

Full price
Description
Electric and hybrid vehicles have been globally identified to be the most environmentally friendly road transportation. This book provides comprehensive coverage of energy systems for electric and hybrid vehicles with a focus on the three main energy system technologies – energy sources, battery charging and vehicle-to-grid systems.
Topics covered include;
energy source systems (electrochemical energy sources, flywheel energy storage, hybrid energy sources, solar energy harvesting, electromagnetic energy regeneration and thermoelectric energy recovery)
battery technologies (battery charging strategies and battery management techniques, emerging wireless charging techniques for electric vehicles and the concept of energy cryptography for secure wireless power transfer)
vehicle-to-X technology (vehicle-to-home, vehicle-to-vehicle and vehicle-to-grid energy systems)
About the Editor,

Professor K. T. Chau has served as Director of the International Research Centre for Electric Vehicles at the University of Hong Kong for over ten years. He is a Fellow of the IEEE, the IET and the Hong Kong Institution of Engineers. He has served as editor and editorial board member of various international journals as well as chairing and organizing committee members of many international conferences, especially in the area of Electric Vehicles. He is also an international consultant for electric vehicle technologies. Professor Chau has published six books, over two hundred refereed journal papers, and many industrial reports. His teaching and research philosophy follows the Confucian classic "Li Ji" – Teaching and learning (research) are mutually motivating.
Book readership
This book is an essential reading for researchers and advanced students developing electric/hybrid vehicles and intelligent transport systems in industry and academia.
Book contents