EMC and Functional Safety of Automotive Electronics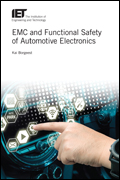 Book title: EMC and Functional Safety of Automotive Electronics

Author: Kai Borgeest

Year: 2018

Format: Hardback

Product Code: PBTR0120

ISBN: 978-1-78561-408-8

Pagination: 264pp
£71.50 Member price
£110.00

Full price
Description
Electromagnetic compatibility (EMC) deals with the unintentional propagation and reception of electromagnetic energy which may cause disturbances or even physical damage in electronic or electromechanical systems. With the increase in number and density of electronic devices and systems in modern vehicles, EMC has become a substantial concern and a key cause of malfunction of automotive electronics.
This book explores electromagnetic compatibility in the context of automotive electronics, with a close relation to functional safety as required by ISO 26262. Topics covered include an introduction to automotive electronics; electrical drives and charging infrastructure; fundamentals of functional safety; fundamentals of EMC, signal and power integrity; the legal framework; EMC design at the ECU Level; EMC design at the system level and in special subsystems; modelling and simulation; and test and measurement for EMC.
About the Author
Kai Borgeest is a Professor at the Center of Automotive Electronics and Combustion Engines, Aschaffenburg University of Applied Sciences, Germany. He is author, co-author and co-editor of several books on automotive technology and more than 30 research papers.
Book readership
This book is aimed at researchers, advanced students and engineers involved in automotive electronics.
It is also for advanced students or engineers involved in EMC or functional safety.
Book contents