Navigation and Control of Autonomous Marine Vehicles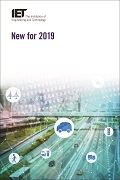 Author: Dr. Sanjay Sharma & Professor Bidyadhar Subudhi (eds.)

Year: 2019

Format: Hardback

Product Code: PBTR0110

ISBN: 978-1-78561-338-8

Pagination: c.300pp
£78.00 Member price
£120.00

Full price
Description
Robotic marine vessels can be used for a wide range of purposes, including defence, marine science, offshore energy and hydrographic surveys, and environmental surveys and protection. Such vessels need to meet a variety of criteria: they must be able to operate in salt water, and to communicate and be controlled over large distances, even when submerged or in inclement weather. Further challenges include 3D navigation of individual vehicles, groups or squadrons.
This book covers the current state of research in navigation, modelling and control of marine autonomous vehicles, and deals with various related topics, including collision avoidance, communication, and a range of applications. It provides valuable insights for an audience of researchers, academics and postgraduate students interested in autonomous marine vessels, robotics, and electrical and automobile engineering.
About the Editors
Sanjay Sharma is an Associate Professor (Reader) in Intelligent Autonomous Control Systems, and Head of Autonomous Marine Systems (AMS) research group at Plymouth University, UK. His research focuses on the use of AI techniques; particularly for wave energy devices, robotics, automobiles and uninhabited marine vehicles for both surface and underwater operations. In addition, he serves as a member of the IMechE Mechatronics, Informatics & Control Group Board, is an IMechE representative to UKACC, and a member of IFAC TC 7.5 on Intelligent Autonomous Vehicles.
Bidyadhar Subudhi is a Professor in the Department of Electrical Engineering at the National Institute of Technology Rourkela, India. He is the Co-ordinator of Control and Automation Research Group and Centre of Excellence on Renewable Energy Systems. His research interests include Robust and Adaptive Control, Control of Autonomous Underwater and Flexible Robots, Renewable Power and Microgrid Control. He is a member of Technical Committee on Intelligent Control, IEEE Control System Society. He is a Fellow of IET(UK), Institution of Engineers (India) and a Senior Member of IEEE.
Book readership
This book is aimed at researchers and academics active in autonomous marine vehicles and related areas as well as postgraduate students in mechanical, electrical and automobile engineering and robotics.
Book contents
This information is provisional and will be updated prior to publication

Chapter 1: Modelling and Control of Autonomous Vehicles - Yuanchang Liu, Richard Bucknall
Chapter 2: Efficient Optimal Path Planning of Unmanned Surface Vehicles - Yogang Singh, Sanjay Sharma, Robert Sutton, Daniel Hatton, Asiya Khan
Chapter 3: Collision Avoidance of Maritime Vessels - Wasif Naeem, Sable Campbell, Mamun Abu-Tair
Chapter 4: Sliding mode control for path planning guidance of marine vehicles - Shashi Ranjan Kumar, Ashwini Ratnoo, Debasish Ghose
Chapter 5: Model Predictive control for AUVs with lake test results - Eric Rogers
Chapter 6: Nonlinear H-infinity control of autonomous underwater vehicles - Subhashisha Mahapatra, Bidyadhar Subudhi
Chapter 7: Cooperative path planning for underwater autonomous vehicle formations in dynamic ocean environments - Haibin Huang, Yufei Zhuang, Sanjay Sharma
Chapter 8: Cooperative Path-Following Control with Logic-Based Communications - Francisco Curado, Antonio Pascoal, Joao Quintas
Chapter 9: Formation Control of Autonomous Marine Vehicles - Basant Kumar Sahu, Bidyadhar Subudhi, Sanjay Kumar Sharma
Chapter 10: Hydro-acoustic Communications and Networking in Contemporary Underwater Robotics: Instruments and Case Studies - Konstantin Kebkal
Chapter 11: Commercial applications of ASVs - Dan Hook