Clean Mobility and Intelligent Transport Systems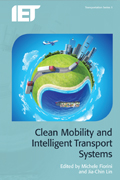 Book title: Clean Mobility and Intelligent Transport Systems

Author: Michele Fiorini & Jia-Chin Lin (eds)

Year: 2015

Format: Hardback

Product Code: PBTR0010

ISBN: 978-1-84919-895-0

Pagination: 464pp
£61.75 Member price
£95.00

Full price
Description
With contributions from an international team of experts, this book offers an overview of current topics in intelligent transport systems and clean mobility by covering the full spectrum on land, sea and aircraft transport.
Drawing on keynote sessions given at the 2013 Euro-Asia Economic Forum, and at the Intelligent Transport Systems and Telecommunications (ITST) 2012 conference, this book also combines research from the economic and human sciences.
Clean Mobility and Intelligent Transport Systems includes chapters from a wide range of academic and industrial authors.
Topics covered include;
the importance of ITS for urban movement
ICT for intelligent public transport systems
ITS and freight transport
energy-efficient and real-time database management techniques for wireless sensor networks
proactive safety – cooperative collision warning for vehicles
electronic toll collection systems
business models and solutions for user-centered intelligent transport systems
digital infrastructures for increased safety, efficiency and environmental sustainability in shipping logistics
integrated visual information for maritime surveillance
AIS signal radiolocation, tracking and verification
the impact of satellite AIS to the environmental challenges of modern shipping
how green is e-navigation?
optimal ship operation: monitoring technology of ship overall heat balance
regulation of ship-source pollution through international convention regimes
foresight application for the transport sector
trends in aeronautical air ground communications

About the Editors
Dr Michele Fiorini is Chairman of the IET Italy Network, member of the e-navigation technical working group of the International Association of Marine Aids to Navigation and Lighthouse Authorities, and a Project Engineering Manager for the "Automatic National System of Radar Control for Maritime Areas of Poland" Dr Michele Fiorini was also the Session Chairman for Clean Mobility and Intelligent Transport Systems at the 2013 Euro-Asia Economic Forum (EAEF-2013), Xi'an, China.
Jia-Chin Lin is Chairperson at the Department of Communication Engineering at National Central University, Taiwan, where his research interests include wireless transmission technologies, signal processing for communications and signal synchronization techniques.
Book readership
Clean Mobility and Intelligent Transport Systems is essential reading for researchers, developers and students of Intelligent Transport Systems (ITS) and clean and smart mobility.
Book contents