Understanding Telecommunications Business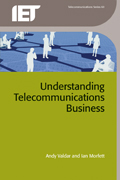 Book title: Understanding Telecommunications Business

Author: Andy Valdar & Ian Morfett

Year: 2015

Format: Paperback

Product Code: PBTE0600

ISBN: 978-1-84919-745-8

Pagination: 440pp
£32.50 Member price
£50.00

Full price
Description
Understanding Telecommunications Business provides a comprehensive introduction to the tools for analysing markets, constructing business cases and providing customer service with a specific reference to telecommunications.
Most of us enjoy the benefits of the "information age" but may not be aware that underpinning this is a wide range of infrastructure in the form of cell-sites, masts, cables, switches, routers, computer servers and mass storage and also many companies involved in the business of providing and operating such resources.
This book attempts to explain the complex interplay between the companies and how their businesses operate such as considering how telecommunications companies tackle the challenging information and communication technology market place; how they make a case for investment and how they operate telecommunications networks and computer server resources.
Topics covered include;
An introduction to the telecommunications business
Regulation
Business strategy
Corporate finance and governance
Network economics
Network strategy and planning
Customers and marketing
Product management
Network and service operations
People and organisation development

About the Authors
The authors Andy Valdar and Ian Morfett have based this book on the material used to teach Masters Degree students over the last 10 years or so, as well as drawing on their knowledge gained through a combined experience of over 80 years working within the industry.
Andy Valdar has a wide-ranging career in telecommunications covering network planning, international standardisation, training, market and product management, advising on regulation and developing strategy. He is currently an active participant in international telecommunications conferences and is chairman of the board of Editors on the Journal of the Institute of Telecommunications Professionals (ITP)
Ian Morfett teaches at University College London, developing programmes in leadership and management. Until 2006, he was the deputy director of the Better Regulation Executive within the Cabinet Office and prior to that worked for BT for 30 years. He has also been Group Director of Regulatory Affairs for BT and has held a number of senior roles covering finance, commerce and customer service.
Book review
The book can be recommended to students as a handbook, being a perfect supplement for the lectures on entrepreneurship or practical project management courses that are typically a part of the curriculum for a future IT engineers. This is also a good summary of various aspects of networking from the organizational and global viewpoint, a perspective that might sometimes be lost when a student encounters various topics covered during different courses separately. On the other hand, the book will be useful for network specialists who would like to understand what are the basic categories of thinking for management or marketing staff.
Piotr Cholda, Dept. Telecommunications, AGH University of Science and Technology, Krakow, Poland.
Book readership
Understanding Telecommunications Business is an essential text for undergraduate and graduate students studying telecommunications, and will also find a place on the bookshelves of the many people already working in the industry, or considering joining it, whatever their discipline.
Book contents