Understanding Telecommunications Networks, 2nd Edition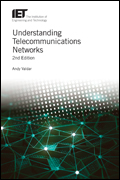 Book title: Understanding Telecommunications Networks, 2nd Edition

Author: Andy Valdar

Year: 2017

Format: Hardback

Product Code: PBTE0710

ISBN: 978-1-78561-164-3

Pagination: 416pp
£34.45 Member price
£53.00

Full price
Description
A telecommunications network is an electronic system of links, nodes and the controls that govern their operations to allow voice and data transfer among users and devices. Examples of telecommunications networks are the telephone networks, computer networks and the Internet. Understanding Telecommunications Networks provides a comprehensive explanation of how various systems and technologies link together to construct fixed and mobile telecommunications networks and provide services. It uses straightforward language supported by block-schematic diagrams so that non-engineers and engineers alike can learn about the principles.
This fully revised, updated and expanded second edition covers all aspects of today's networks, including how they are planned, formed and operated. After an introductory chapter on telephony, the book describes all of today's networks and considers how they link. Individual chapters then consider the principles, technologies and network structures relating to network components; transmission systems and networks; circuit switching systems and networks; signalling and control; data (packet) switching and routeing; and mobile systems and networks. The book concludes with a chapter designed to pull everything together, considering architecture, quality of service and performance, operations, network evolution and next generation networks. This is a companion volume to "Understanding Telecommunications Business" authored by Andy Valdar & Ian Morfett (ISBN: 9781849197458)"
About the Author
Andy Valdar has covered many aspects of telecommunications over his career, including network planning, international standards, training, marketing and product management, advising on the network and technical aspects of regulation, and developing network and technology strategy. He worked at BT for 30 years, spent 3 years in India working for the ITU, and 15 years at University College London, where he is currently a visiting Professor. He is also the co-author of the companion book Understanding Telecommunications Business and the earlier textbook: SPC Digital Telephone Exchanges.
Book readership
Primary: Students, college and university lecturers involved in telecommunication, networking and ICT engineering.
Secondary: Telecom engineers (network operators, ISPs and other service providers, equipment manufacturers, consultants, training companies and professional bodies); Non-engineers working in the telecommunications or ICT field, including: Consultants, marketing and sales professionals, society staff and conference organisers, regulatory and government bodies, and business planning and strategy professionals.
Book contents