Transceiver and System Design for Digital Communications, 5th Edition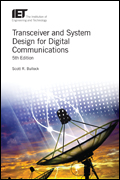 Book title: Transceiver and System Design for Digital Communications, 5th Edition

Author: Scott R. Bullock

Year: 2017

Format: Hardback

Product Code: PBTE0800

ISBN: 978-1-78561-495-8

Pagination: 552pp
£81.90 Member price
£126.00

Full price
Description
In this 5th Edition, the author continues to evaluate various novel techniques and design methods for the modulation and transmission of digital data, allowing the readers to gain a firm understanding of the processes needed to effectively design wireless data link communication systems. Since the author regularly runs industry seminars based on this book, he is continuously updating the book material. This edition includes thorough updates of all chapters including all concepts and revised and new figures. The author has rewritten the chapter on new cognitive technologies, and added two brand new chapters on radar communications, and volume search and track. He has updated all front matter and appendices, and has also changed the flow between the chapters and rearranged the topics to improve the content and understanding.
About the Author
Scott R. Bullock holds a BSEE and an MSEE degree in RF and wireless communications. He has worked, consulted, and held positions at Texas Instruments, Omnipoint, E-Systems, General Dynamics, Technical Fellow for Raytheon, Consultant Engineer and Manager for Northrop Grumman, Senior Director for MKS/ENI, VP of Engineering for Phonex Broadband, and VP of Engineering for L3 Communications. He specialises in wireless communications designs and system analysis. He currently holds 19 patents in wireless spread spectrum communications, published two books and written several articles for various trade magazines. His analysis and designs include the first handheld PCS wireless telephone, a wireless spread spectrum replacement for the TOW Missile, has set the standard wireless communications data link for SCAT-I landings, and designed adaptive and cognitive filters and systems.
Book readership
Derived from numerous training workshops taught to engineers through private courses, this book will appeal to digital wireless communications system designers in both commercial and military sectors, in particular new engineers requiring practical design techniques and fundamental understanding of modern systems that employ digital transceivers.
Book contents