Satellite Communications in the 5G Era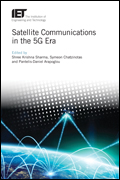 Book title: Satellite Communications in the 5G Era

Author: Shree Krishna Sharma, Symeon Chatzinotas and Pantelis-Daniel Arapoglou (eds.)

Year: 2018

Format: Hardback

Product Code: PBTE0790

ISBN: 978-1-78561-427-9

Pagination: 600pp
£87.75 Member price
£135.00

Full price
Description
Satellite communications (SatCom) plays a vital role in ensuring seamless access to telecommunications services anytime, and is a viable option for delivering telecommunication services in a wide range of sectors such as aeronautical, military, maritime, rescue and disaster relief. It should be an important component of 5G-and-beyond wireless architectures as it can complement terrestrial telecommunication solutions in various scenarios to provide highly reliable and secure connectivity over a wide geographical area. This book explores promising scenarios for 5G SatCom, novel paradigms for hybrid/integrated satellite-terrestrial integration; EHF broadband aeronautical SatCom systems; Next-generation NGSO SatCom systems; Diversity combining and handover techniques for MEO satellites; Non-linear countermeasures for multicarrier satellites; SDN demonstrator for multi-beam satellite precoding; Beam-hopping SatCom systems; Optical on-off keying data links for LEO downlink applications; Ultra-high speed data relay systems; On-board interference detection and localization; Advanced random access schemes for SatCom systems; Interference avoidance, mitigation and dynamic spectrum sharing for hybrid satellite-terrestrial systems; and Two-way satellite relaying.
About the Editors
Shree Krishna Sharma holds a PhD degree in Wireless Communications from the University of Luxembourg, and is the author of more than 80 technical papers in scholarly journals and international conferences. He is a senior member of IEEE and is the recipient of several awards including FNR Award for Outstanding PhD Thesis 2015, CROWNCOM 2015 Best Paper Award and 2018 EURASIP Best Paper Award.
Symeon Chatzinotas is the Deputy Head of the research group SIGCOM at the University of Luxembourg, and a Visiting Professor at the University Parma, Italy. He is the co-recipient of the 2014 Distinguished Contributions to Satellite Communications Award from the Satellite and Space Communications Technical Committee, IEEE Communications Society.
Pantelis-Daniel Arapoglou is a Communications System Engineer with the European Space Agency ESA/ESTEC where he supports R&D activities and developments in the areas of satellite telecommunications, digital and optical communications, and high-data-rate telemetry for Earth observation applications.
Book readership
This book is ideal for Telecom Engineers, researchers, lecturers or students to identify suitable techniques and evaluate the feasibility and investment costs involved in the deployment process and in proposing and defining satellite communication standards and protocols
Book contents