Introduction to Digital Wireless Communications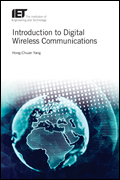 Book title: Introduction to Digital Wireless Communications

Author: Hong-Chuan Yang

Year: 2017

Format: Hardback

Product Code: PBTE0720

ISBN: 978-1-78561-160-5

Pagination: 288pp
£51.35 Member price
£79.00

Full price
Description
This book provides an efficient introduction to fundamental and advanced digital transmission technologies in current and future wireless communication systems. The objective is to help students and engineers quickly grasp the operating principles and design trade-offs of various wireless transmission technologies, which will enable them to carry out product development or perform academic research in the field.
With sufficient theoretical depth, the book covers large-scale channel effects; multipath fading; digital transmission over flat fading; fading mitigation through diversity combining; transmission over frequency selective fading; spread spectrum transmission; channel capacity and coding; channel adaptive transmission; MIMO transmission; and advanced topics including multiuser diversity transmission, cooperative relay transmission and multiuser MIMO transmission.
The material is presented without assuming an extensive digital communications background from the readers. The design principles of these technologies are manifested with over 100 carefully designed illustration and over 60 problem-solving examples. The readers can also check their own understanding with extra practice problems at the end of each chapter. Special emphasis is placed on the important trade-off analysis of performance versus complexity.
An Instructor Pack is available for this book for instructors who have adopted the book for a course. It includes lecture slides, sample exams and tutorials. To request an Instructor Pack, please email books@theiet.org, including details of your institution and the course you are teaching.
An errata is available under the supplementary material tab on the e-book web page.
About the Author

Dr. Hong-Chuan Yang is Professor at the Department of Electrical and Computer Engineering, University of Victoria, B.C., Canada. He received his Ph.D. degree in Electrical Engineering from the University of Minnesota, USA. His research interest includes communication theory, diversity techniques, performance analysis, cross-layer design, and energy-efficient communications. Dr. Yang has authored several books and over 200 journal and conference papers. He is a senior member of IEEE and registered professional engineer (P.Eng.) in British Columbia, Canada.
Book readership
Including carefully designed problem-solving examples and extra practice problems, this book help students and engineers with only basic communication knowledge quickly understand the principles and trade-offs involved in these digital wireless transmission technologies, start performing academic research in the field, and carry out product development.
Book contents