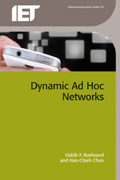 Author: H. F. Rashvand and H. C. Chao

Year: 2013

Format: Hardback

Product Code: PBTE0590

ISBN: 978-1-84919-647-5

Pagination: 504 pp.
£68.90 Member price
£106.00

Full price
Description
The book covers concepts and principles, networking techniques, network management, and applications. It features solution chapters on specific networking topologies such as Mesh, WLAN, WiMAX and vehicle-to-vehicle, as well as applications such as wireless sensor networks (WSN), road traffic control systems and telematic computing. The advantages of ad hoc networking for increased reliability, security, energy efficiency and performance are demonstrated throughout the book.
Book readership
Dynamic Ad Hoc Networks will appeal to researchers, students and engineers with an interest in communications, networks and wireless sensor systems.
Book contents
Part I Concepts and principles
• Dynamic ad hoc networks and associated key management
• Energy-efficient routing protocols in Ad Hoc networks
• Security in vehicular Ad Hoc networks
• INT Internet-gateway discovery in mobile Ad-Hoc networks
• Capacity of wireless ad hoc networks
Part II Networking methods and techniques
• VANET dynamic routing protocols: evaluation, challenges and solutions
• Exploiting cooperative relays in MIMO Ad Hoc networks
• Single-path and multipath routings in mobile Ad Hoc networks
• Ant colony inspired routing for mobile Ad Hoc networks
• Reliable multipath routing in mobile Ad Hoc networks using hybrid computational intelligence algorithms
• Dominating set clustering protocols for mobile Ad Hoc networks
Part III Ad-Hoc network management
• Reliable approach to prevent black and grey holes attacks in mobile Ad Hoc networks
• Distributed channel reservation MAC: A QoS improvement technique for dynamic Ad Hoc networks
• Energy efficient local forwarding schemes
• Dynamic spectrum sharing between cooperative relay and Ad Hoc networks: towards real-time optimal control
Part IV Applications and uses of Ad Hoc networking
• Quality of service for multimedia applications in mobile Ad Hoc networks
• Road traffic management: traffic controllers, mobility and VANET
• EMPIRE – Energy efficient trust-aware routing for wireless sensor networks
• Bio-inspired scheduling schemes for wireless Ad Hoc sensor networks