Cloud and Fog Computing in 5G Mobile Networks: Emerging advances and applications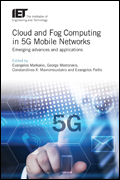 Book title: Cloud and Fog Computing in 5G Mobile Networks: Emerging advances and applications

Author: Evangelos Markakis, George Mastorakis, Constandinos X. Mavromoustakis and Evangelos Pallis (Eds.)

Year: 2017

Format: Hardback

Product Code: PBTE0700

ISBN: 978-1-78561-083-7

Pagination: 440pp
£61.75 Member price
£95.00

Full price
Description
Cloud computing is a key trend in computing and networking. Now diffused among end-users devices in mobile and wireline networks, the cloud is becoming the "fog". This book presents frameworks and schemes that use devices from end-users or near-users to carry out storage, communication, computation and control in the network. These novel approaches support the Internet of Things, the efficient provision of heterogeneous 5G mobile services, as well as emerging applications over future wireless network architectures. Elaborating on the emerging mobile networking paradigms for the 2020 5G timeframe, this book presents new connectivity services that are highly scalable and programmable in terms of speed, capacity, security, reliability, availability, latency and impact on battery life. Finally, the book discusses recent and new developments, prompting future directions on the theories, practices, standards and strategies related to 5G mobile systems.
Topics covered include: network storage, Internet of Things (IoT); heterogeneous 5G mobile services; 5G green mobile networks; cloudlet-based architectures in mobile cloud computing environments; software-defined networking (SDN) and network functions virtualization (NFV); FOG-enabled navigation system; FIWARE and IoT technologies; real time video distribution; hybrid resource sharing; energy efficiency in cognitive radio networks; edge computing in future 5G mobile networks; and virtual network functions over cloud infrastructures.

About the Editors

Dr. Evangelos Markakis is a Senior Research Associate at the Technological Educational Institute of Crete and he is the Technical Manager for the HORIZON 2020 DRS-19-2014 "EMYNOS".

Dr. George Mastorakis is as an Associate Professor at the Technological Educational Institute of Crete, Greece.

Prof. Constandinos X. Mavromoustakis is a Professor at the Department of Computer Science at the University of Nicosia, Cyprus, where he heads the Mobile Systems Laboratory.

Dr. Evangelos Pallis is an Associate Professor at the Informatics Engineering department of the Technological Educational Institute of Crete, and the director of PASIPHAE laboratory, Greece.
Book readership
Ideal for researchers, practitioners and advanced students in electrical and electronic engineering, telecomms, networking, mobile and wireless communications, computer science and engineering, applied informatics, and information systems.
Book contents