Advances in Body-Centric Wireless Communication: Applications and State-of-the-art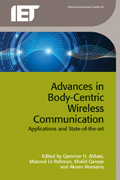 Book title: Advances in Body-Centric Wireless Communication: Applications and State-of-the-art

Author: Qammer H. Abbasi, Masood Ur Rehman, Khalid Qaraqe and Akram Alomainy (eds.)

Year: 2016

Format: Hardback

Product Code: PBTE0650

ISBN: 978-1-84919-989-6

Pagination: 456pp
£65.00 Member price
£100.00

Full price
Description
Body-centric wireless networking and communications is an emerging 4G technology for short (1-5 m) and very short (below 1 m) range communications systems, used to connect devices worn on (or in) the body, or between two people in close proximity. It has a great potential for applications in healthcare delivery, entertainment, surveillance, and emergency services.
This book brings together contributions from a multidisciplinary team of researchers in the field of wireless and mobile communications, signal processing and medical measurements to present the underlying theory, implementation challenges and applications of this exciting new technology.
Topics covered include;
diversity and cooperative communications in body area networks
ultra-wideband radio channel characterisation for body-centric wireless communication
sparse characterisation of body-centric radio channels
antenna / human body interactions in the 60 GHz band
antennas for ingestible capsule telemetry
in vivo wireless channel modelling
diversity and MIMO for efficient front-end design of body-centric wireless communications devices
on-body antennas and radio channels for GPS applications
textile substrate integrated waveguide technology for the next-generation wearable microwave systems
ultra-wideband body-centric networks for localisation and motion capture application
downscaling to the nano-scale in body-centric nano-networks
the road ahead for body-centric wireless communication and networks

About the Editors

Dr. Qammer H. Abbasi is an Assistant Research Scientist in Center for Remote Healthcare Technology and System Extension at Qatar in ECEN Department, Texas A & M University at Qatar and also Visiting Research Fellow at Queen Mary University of London (UK) working on nano communication, remote healthcare technologies and body centric wireless communication. Dr. Abbasi has contributed to a patent, more than 90 leading international technical journal and conference papers in addition to 4 books. He has been a member of the technical program committees of several flagship conferences and technical reviewer for various well-established journals.
Dr Masood Ur Rehman is a Lecturer in the Centre for Wireless Research at University of Bedfordshire (UK). His current research interests include electromagnetic interaction of antennas and the human body, environmental effects on wearable and GPS antennas and multi-band antennas for wireless body area networks. He has authored 2 books, 3 book chapters, over 50 technical papers in leading journals and peer-reviewed conferences and contributed to one patent. He has served as the member of organising and technical programme committees for a number of international conferences.
Dr. Khalid Qaraqe is a Professor in department of Electrical and Computer Engineering of Texas A&M University at Qatar. He has been awarded 'Best Researcher Award' from QNRF in 2013. He has published more than 150 papers and written 9 book chapters. He acquired more than $9 million funding from several sources including QNRF in the last 9 years. He is managing director for the Center for Remote Healthcare Extension at Qatar in Texas A&M University at Qatar.
Dr Akram Alomainy is an Associate Professor in the Antennas and Electromagnetics Research Group and Industry Strategy Coordinator at the School of Electronics Engineering and Computer Science at Queen Mary University of London (UK). He has authored one book, 5 book chapters and more than 200 technical papers in leading journals and peer-reviewed conferences. He was awarded the Royal Academy of Engineering industrial secondment in 2014 for his outstanding contributions to transferable knowledge work on wearable radios and antennas.
Book review
The 437-page text targets developers and researchers working in wireless communication who are designing antennas and planning communication channels in the close proximity of human bodies. In the absence of this text, researchers would be forced to plow through a lot of published research to get the kind of transmission data they would need to field systems. Instead, the book authors have done that work, summarizing the results of numerous studies done in the frequency bands that pertain to body-centric RF. This volume is also particularly helpful in that the design of wearable electronics is too new to have found its way into textbooks. Thus summaries of research in the field is pretty much all that practitioners can hope to see in book form.
Lee Teschler, BS Engineering, BS Electrical Engineering, MBA—Executive Editor, Design World
Book readership
Advances in Body-Centric Wireless Communication: Applications and State-of-the-art is essential reading for researchers in academia and industry working in telecommunications engineering, antenna design, mobile and wireless networks, and healthcare technologies; and advanced students in these areas.
Book contents