Advanced Relay Technologies in Next Generation Wireless Communications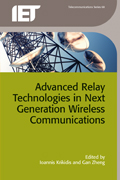 Book title: Advanced Relay Technologies in Next Generation Wireless Communications

Author: Ioannis Krikidis and Gan Zheng (eds.)

Year: 2016

Format: Hardback

Product Code: PBTE0680

ISBN: 978-1-78561-003-5

Pagination: 536pp
£71.50 Member price
£110.00

Full price
Description
Advanced Relay Technologies in Next Generation Wireless Communications describes the use of the highly successful cooperative networks/relaying approach in new and emerging telecommunications technologies such as full-duplex radio, massive multiple-input multiple-output (MIMO), network coding and spatial modulation, and new application areas including visible light communications (VLC), wireless power transfer, and 5G.
Topics covered include:
spatial modulation for cooperative networks
relaying for massive MIMO; relaying for outdoor to indoor in mmWave communications
precoding techniques for relaying with interference
relaying in full-duplex radio communication systems
relay selection in modern communication systems
relaying in green communications systems
energy-efficient relaying
cognitive radio with relaying
relaying in non-ideal conditions
relaying and physical layer secrecy relaying technologies for smart grid
simultaneous wireless and power transfer for interference relay channel
relaying in visible light communication systems
on-ground and on-board signal processing for multibeam precoding.
About the Editors
Dr. Ioannis Krikidis is an Assistant Professor at the Department of Electrical and Computer Engineering at the University of Cyprus and the director of the Mobile Communications & Networking (MCN) Laboratory. His current research interests include communication theory, wireless communications, cooperative communications, full-duplex radio and wireless powered communications.
Dr. Gan Zheng is a Senior Lecturer in Wolfson School of Mechanical, Electrical and Manufacturing Engineering at Loughborough University, UK. His general research interests lie in the analysis, design and optimization of algorithms and protocols that improve the efficiency, robustness and security of wireless communications networks.
Book review
This is a compelling anthology on the topical subject of relaying. The amalgam of an exquisite author-team and the influential editorial touch resulted in excellent state-of-the-art anthology.
Lajos Hanzo, FREng, FIEEE, FIEE, DSc, Chair of Telecomms, University of Southampton
Book readership
This book is essential reading for researchers and advanced students in academia and industry working in telecommunications system design.
Book contents