The Advanced Communications Technology Satellite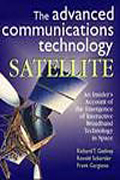 Book title: The Advanced Communications Technology Satellite: an insider's account of the emergence of interactive broadband technology in space

Author: Richard T. Gedney, Ronald Schertler and Frank Gargione

Year: 2001

Format: Hardback

Product Code: SBTE0070

ISBN: 978-1-89112-111-1

Pagination: 304pp

Stock Status: Out of stock

The estimated arrival date is June 2012
Your account will only be charged when we ship your item.
£40.30 Member price
£62.00

Full price
Description
A candid insider's look at the creation of the most advanced digital communications satellite of its time that sparked a revolution in the field of communications and helped spawn Ka Band systems such as Spaceway, Astrolink, Euroskyway, and others. Although created in the early 1980's, the ACTS program correctly forecasted demand for interactive services well ahead of the rise of the Internet and used a market-based approach for defining the needed technology. 
The book provides a fascinating chronicle of the breakthrough events from the perspectives of the authors, who were intimately involved in every phase of the project, dramatically illustrated with scores of color graphics and photographs highlighting the hardware and the participants. 
Easy to read but with ample references for further research, it provides a compelling case study of a complex space system development project covering both the technical and managerial aspects. Because this material is not normally released for commercial systems, readers will obtain valuable insights into the world of high-risk technology and the role of government in sponsoring technology development for commercial systems. For communications and aerospace engineers, scientists, and technicians; executives and project managers in high-speed communications, broadcasting, the internet, and aerospace; and venture capitalists.
Book contents
Ch. 1 - Program Formulation 
Ch. 2 - Satellite Technology 
Ch. 3 - Terminal Equipment 
Ch. 4 - ACTS User Trials 
Ch. 5 - Ka Band Propagation Effects 
Ch. 6 - The ACTS Development 
Ch. 7 - Market Forecast in Shaping ACTS Technology Investment 
Ch. 8 - ACTS Successors 
Ch. 9 - The Role of Government in Technology Development
About the authors
Dr. Richard T. Gedney was NASA's project manager for ACTS from 1980 to 1995 and has all the inside information about the ACTS program. He has over 40 years of aerospace experience in design and technology development, system engineering, program formulation, project management, and system operation with special emphasis on launch vehicles and satellite communications. Currently Dr. Gedney is president of the Advanced Communications Technology Company, which provides consulting services to satellite companies around the world. He holds a Ph.D. from Case Western Reserve University in Aerospace Sciences. 
Ronald Schertler, the Experiment Manager for the NASA Advanced Communication Technology Satellite at the NASA Lewis Research Center was in charge of program that allowed industry, government, and university customers to experience the technology of the next generation of communication satellites. He was responsible for the planning, promotion, solicitation, coordination, execution, and evaluation of all experiments using the ACTS System until his retirement from NASA in 1997. Prior to joining the ACTS program, he was involved in remote sensing and electric propulsion research. He holds a B.S. from Xavier University and an M.S. from Pennsylvania University.