Network as a Service for Next Generation Internet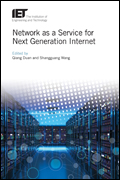 Book title: Network as a Service for Next Generation Internet

Author: Qiang Duan and Shangguang Wang (Eds.)

Year: 2017

Format: Hardback

Product Code: PBTE0730

ISBN: 978-1-78561-176-6

Pagination: 440pp
£68.25 Member price
£105.00

Full price
Description
With the rapid progress in networking and computing technologies, a wide variety of network-based computing applications have been developed and deployed on the internet. Flexible and effective service provisioning for supporting the diverse applications is a key requirement for the next generation internet. However, the current internet lacks sufficient capability for meeting this requirement, mainly due to the ossification caused by tight coupling between network architecture and infrastructure. Service-Oriented Architecture (SOA), which has been widely adopted in cloud computing via the Infrastructure-as-a-Service (IaaS), Platform-as-a-Service (PaaS), and Software-as-a-Service (SaaS) paradigms, may be applied in networking to decouple network architecture and infrastructure; thus offering a promising approach to addressing some fundamental challenges to the next generation Internet. In general, such a service-oriented networking paradigm is referred to as Networkas- a-Service (NaaS). This book presents the state of the art of the NaaS paradigm, including its concepts, architecture, key technologies, applications, and development directions for future network service provisioning. It provides readers with a comprehensive reference that reflects the most current technical developments related to NaaS.
About the Editors
Qiang Duan is an Associate Professor of Information Sciences and Technology at the Pennsylvania State University Abington College, USA. His general research interests includes data communications, computer networking, and the next generation Internet. His recent research projects focus on Software-Defined Networking, Network Virtualization, Network-as-a-Service, and Unified Network and Cloud Service Provisioning. Dr. Duan has more than 100 publications, including books, book chapters, journal articles, and conference papers. He is on the editorial boards for multiple international research journals and has served on the technical program committees for numerous international conferences.
Shangguang Wang is an Associate Professor at the State Key Laboratory of Networking and Switching Technology, Beijing University of Posts and Telecommunications (BUPT), China. Dr. Wang is Vice Chair (2015-) of IEEE Computer Society Technical Committee on Services Computing, and has held posts as Program Co-Chair of IEEE/ACM ICFEC 2017, General Chair of EAI CollaborateCom 2016, General Chair of ICCSA 2016, Application Track Co-Chair of IEEE SCC 2015, Program Chair of IOV 2014 and Program Chair of SC2 2014. He currently serves as the Editor-in-Chief of the International Journal of Web Science and has published more than 100 journal/conference papers in the field.
Book readership
Ideal for researchers, lecturers and advanced students interested in Next Generation Internet Architecture, Network and Cloud service provisioning. It will also interest IT professionals working in the area.
Book contents