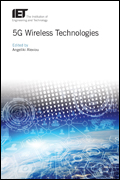 Book title: 5G Wireless Technologies

Author: Angeliki Alexiou (Ed.)

Year: 2017

Format: Hardback

Product Code: PBTE0690

ISBN: 978-1-78561-061-5

Pagination: 416pp
£68.25 Member price
£105.00

Full price
Description
Mobile data traffic is expected to exceed traffic from wired devices in the next couple of years. This emerging future will be empowered by revolutionary 5G radio network technologies with a focus on application-driven connectivity, transparently deployed over various technologies, infrastructures, users and devices to realise the vision of 'the internet of everything'.This book presents a roadmap of 5G, from advanced radio technologies to innovative resource management approaches and novel network architectures and system concepts.
Topics covered include challenges for efficient multi-service coexistence for 5G below 6GHz; new quasi-deterministic approaches to channel modelling in millimeter-wave bands; large scale antenna systems; effects of densification and randomness of infrastructure deployment in cellular networks; wireless device-to-device (D2D) links for machine-to-machine (M2M) communication; caching in large wireless networks; full duplexing; decoupled uplink and downlink access in heterogeneous networks; wireless networks virtualisation; and regulation, business and technology perspectives on licensed shared access (LSA) and three-tier spectrum sharing models.
About the Editor
Angeliki Alexiou received the Diploma in Electrical and Computer Engineering from the National Technical University of Athens in 1994 and the PhD in Electrical Engineering from Imperial College, University of London in 2000. Since May 2009 she has been a faculty member at the Department of Digital Systems, University of Piraeus. Prior to this (from Jan 1999-April 2009) she was with Bell Laboratories, Wireless Research, Lucent Technologies (Alcatel-Lucent), in Swindon, UK. Prof Alexiou is the elected Chair of the Working Group on Radio Communication Technologies of the Wireless World Research Forum, elected member of the EURACON Assembly and elected member of mi-cluster Executive Board. Her research interests include radio communication technologies, resource management and machine-to-machine communications for 5G networks and beyond.
Book readership
5G Wireless Technologies is an essential guide to this emerging system for researchers, engineers and advanced students working in telecommunications and networking.
Book contents