User-Centric Privacy and Security in Biometrics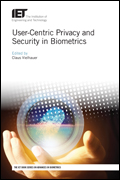 Book title: User-Centric Privacy and Security in Biometrics

Author: Claus Vielhauer (Ed.)

Year: 2017

Format: Hardback

Product Code: PBSE0040

ISBN: 978-1-78561-207-7

Pagination: 432pp
£81.90 Member price
£126.00

Full price
Description
The Interplay of privacy, security and user-determination is an important consideration in the roll-out of biometric technologies. It brings into play requirements such as privacy of biometric data in systems, communication and databases, soft biometric profiling, biometric recognition of persons across distributed systems and in nomadic scenarios, and the convergence between user convenience, usability and authentication reliability.
User-centric Privacy and Security in Biometrics explores how developments in biometrics will address security and privacy aspects. The book surveys and evaluates how biometric techniques can enhance and increase the reliability of security strategies in a variety of applications. This includes privacy-preserving state-of-the-art works and future directions in the view of biometrics as part of broader security concepts. The fundamental emphasis is on privacy within and for biometrics, particularly for the protection of biometric data, informed consent of data usage, transparency on biometric data, and big data fraud prevention.
About the Editor
Claus Vielhauer is a Full Professor for IT Security at Brandenburg University of Applied Sciences and a Senior Researcher at Otto-von-Guericke University Magdeburg in Germany. His research interests are in biometrics, multimedia security and IT forensics with a specialisation in multimodal and behavioral-based recognition, biometric cryptography and applications of biometrics to multimedia, as well as Human-to-Computer Interaction (HCI). Additionally, he is exploring methods for biometric user authentication related to IT security problems such as digital watermarking, steganography or IT forensics. He serves as an editor for the IET Biometrics Journal, and the EURASIP Journal on Information Security and is member of the European Association for Signal Processing (EURASIP).
Book readership
This book is written for academic researchers, system and application designers, R&D and technical consultants and decision-makers, as well as lecturers with courses in biometrics and IT and computer security.
Book contents