Iris and Periocular Biometric Recognition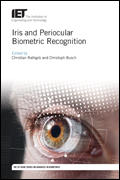 Book title: Iris and Periocular Biometric Recognition

Author: Christian Rathgeb and Christoph Busch (Ed.)

Year: 2017

Format: Hardback

Product Code: PBSE0050

ISBN: 978-1-78561-168-1

Pagination: 496pp
£81.90 Member price
£126.00

Full price
Description
Iris recognition technologies for identity management are already deployed globally in several large-scale nationwide biometric projects and are currently entering the mobile market. More recently, periocular recognition has been employed to augment the biometric performance of the iris in unconstrained environments where only the ocular region is present in the image.
Iris and Periocular Biometric Recognition provides an overview of scientific fundamentals and principles of iris and periocular biometric recognition over six broad areas: an introduction to iris and periocular recognition; a selective overview of issues and challenges; soft biometric classification; security aspects; privacy protection and forensics; and future trends. With contributions from experts in industry and academia, this book is essential reading for researchers, graduate students and practitioners in biometrics and related fields.
About the Editors
Dr. Christian Rathgeb is a senior researcher with the Faculty of Computer Science, Hochschule Darmstadt, Germany. He has co-authored over 50 technical papers and a book in the field of iris biometrics. He is a principal investigator in the Center for Research in Security and Privacy (CRISP) and a Program Chair of the International Conference of the Biometrics Special Interest Group (BIOSIG).

Dr. Christoph Busch is a member of the Department of Information Security and Communication Technology at the Norwegian University of Science and Technology, Norway, and holds a joint appointment with the Faculty of Computer Science, Hochschule Darmstadt, Germany. He is a principal investigator for CRISP, a co-Founder of the European Association for Biometrics (EAB) and convener of WG3 in ISO/IEC JTC1 SC37 on Biometrics. He is a member of the steering committee of BIOSIG and serves on the editorial board of the IET Biometrics journal.
Book readership
Primary: Security and Biometrics researchers, practitioners, R&D and technical consultants, students, and lecturers.
Secondary: Students, researchers and practitioners in related fields (image processing, human computer interaction, computing, mobile and wireless communications, etc.); Product managers of biometrics systems; Government agencies involved in biometrics measures.
Book contents