Systems Engineering for Ethical Autonomous Systems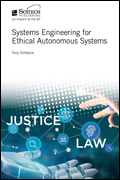 Author: Tony Gillespie

Year: 2019

Format: Hardback

Product Code: SBRA5170

ISBN: 978-1-78561-372-2

Pagination: c.300pp
£84.50 Member price
£130.00

Full price
Description
Ethics, as articulated in International Humanitarian Law, places more constraints on engineering concepts and architectures than technological ones. This book examines autonomous systems (those which interact with humans and have both some level of autonomy and a physical structure) in the context of this wider ethical and legal environment. It shows how systems engineering - an interdisciplinary field of engineering that focuses on how to design and manage complex engineering systems over their life cycles – offers a way to design adherence to ethical rules into these systems from their concept.
About the Author
Tony Gillespie is a Visiting Professor at University College London, a Fellow of the Royal Academy of Engineering and a technical advisor to the UN meetings discussing potential bans on Lethal Autonomous Weapons. His career has three phases: research in millimetre astronomy and techniques; technical management of defence products, and a Fellow in avionics and mission systems in the UK's Defence Science and Technology Laboratory. He developed the techniques in this book at Dstl and since then at UCL.
Book readership
This book should be useful to several types of reader: engineers designing highly automated systems; analysts and marketers specifying them; lawyers who need to understand the technology; and students and non-specialists who need a more detailed understanding of autonomous systems without going into detailed design issues.
Book contents
This information is provisional and will be updated prior to publication
Chapter 1: The art of the acceptable, not the art of the possible
Chapter 2: Decision Making
Chapter 3: Automated control and autonomy
Chapter 4: Operational analysis to systems engineering
Chapter 5: Engineering design process
Chapter 6: Ethics, civil law and engineering
Chapter 7: Introduction to military legal context and its relevance to engineering
Chapter 8: Targeting
Chapter 9: Influences on future military technologies
Chapter 10: Systems engineering applied to International Humanitarian Law (IHL)
Chapter 11: Systems engineering for a new military system
Chapter 12: Making capabilities autonomous
Chapter 13: Design of civilian autonomous systems using military methodologies
Chapter 14: Final considerations for ethical autonomous systems (ASs)