Stimson's Introduction to Airborne Radar, 3rd Edition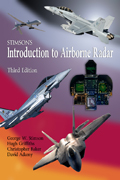 Author: George W. Stimson, Hugh Griffiths, Christopher Baker and Dave Adamy

Year: 2014

Format: Hardback

Product Code: SBRA5050

ISBN: 978-1-61353-022-1

Pagination: 772pp.
£84.50 Member price
£130.00

Full price
Description
An absolute 'must have' for all radar enthusiasts, this new and updated edition is widely acknowledged as the only book to offer a complete overview of modern airborne radar principles of the last 15-20 years.
Try before you buy and download the sample chapter here.
Greatly expanded from the best-selling second edition by George W.Stimson, Stimson's Introduction to Airborne Radar, 3rd edition provides a complete overview of the major developments in air and space borne radars in line with advances in modern technology.
For the past 15 years, the near-legendary 2nd edition (1998) has been recognised as the best-selling book of its kind and widely acknowledged as "the first radar book anybody should own" and this 3rd revision of the classic book is set to be no different.
In this 3rd edition, the true spirit of George W. Stimson lives on throughout the book as the extensive team of highly respected radar editors, authors and experts world-wide are hugely committed to maintaining the excellence of the previous edition and honouring the mantra of "simplicity is best." Stimson was incredibly skilled at explaining complex technical concepts and this is demonstrated in the overall look and feel of the new book in the straight forward and clearly explained writing style and array of unique high quality supporting visuals.
Stimson's Introduction to Airborne Radar, 3rd Edition has been completely modernised to include a higher degree of routine adopting of electronic scanning and high resolution imaging, together with a much greater use of digital technology.
All core radar principles are presented, yet the confusing jargon and complicated math found in most other radar textbooks has been totally stripped out meaning that you don't have to be technically minded to benefit from this book. However there is also sufficient technical depth, mathematical rigor and sound physical understanding of virtually all of the advanced radar techniques to satisfy the appetite of the more advanced radar enthusiasts.
Key features
Every single chapter has been revised in line with modern technologies
Two brand new sections have been added including six chapters on electronic warfare, and seven chapters on special topics and advanced techniques
Modernised real life practical examples ideal for undergraduate training courses
Over 1200 amazing full colour visual graphics
Uses SI units throughout
If you want to make a real investment in your radar career, don't miss your chance to get your hands on the clearest technical presentation of radar principles ever published - the backbone to your studies for the next 20 years!
About the Editors
George W. Stimson was the author of Introduction to Airborne Radar (1st and 2nd editions) and served as an engineer on Southern California Edison's frequency-change project before being hired by Hughes Aircraft Company. Working closely with the company's top designers, Stimson observed first-hand the fascinating evolution of airborne radar and with the help from Hughes engineers updated the first edition with 11 new chapters.
Hugh Griffiths holds the THALES/Royal Academy Chair of RF Sensors in the Department of Electronic and Electrical Engineering at University College London, UK, He has published over 300 technical articles and papers and is the Editor-in-Chief of the IET Journal - Radar, Sonar and Navigation. In 2013, he won the prestigious AF Harvey prize from the IET.
Christopher Baker is the Ohio Research Scholar in Integrated Sensor Systems at The Ohio State University. He has been actively engaged in radar system research since 1984 and is the author of over two hundred publications.
David Adamy is an internationally recognised expert in electronic warfare with over 47 years' experience in the field and is a past National President of the Association of Old Crows.
Contributors: Simon Watts, Tony Kinghorn, James Stiles, Shannon Blunt, Eli Brookner, David Blacknell
Book readership
Suited to those who are experienced and new to radar, Stimson's Introduction to Airborne Radar, 3rd edition will be a hugely beneficial reference text for a vast number of radar enthusiasts including;
radar and general defence engineers
military pilots
students studying radar, aviation and aeronautics
defence contractors
avionic technicians
all levels of radar personnel
Even those not actively in the field of airborne radar will find benefit from this book as the core principles are applicable to many areas of surface based radar. Therefore, this is not only a first choice for those beginning their research journey into radar but it will also be a hugely beneficial reference text for a vast number of people in the industry.
Book contents