Understanding Radar Systems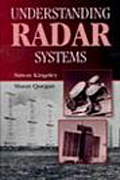 Author: Simon Kingsley and Shaun Quegan

Year: 1999

Format: Hardback

Product Code: SBRA0340

ISBN: 978-1-89112-105-0

Pagination: 384pp
£46.15 Member price
£71.00

Full price
Description
"What is radar? What systems are currently in use? How do they work? 
Understanding Radar Systems provides engineers and scientists with answers to these critical questions, focusing on actual radar systems in use today. It's the perfect resource for those just entering the field or a quick refresher for experienced practitioners. The book leads readers through the specialized language and calculations that comprise the complex world of modern radar engineering as seen in dozens of state-of-the-art radar systems."
Book contents
1. Fundamentals: What is radar? 
2. Designing a surveillance radar 
3. Tracking Radar 
4. Radar Detection Theory 
5. Signal and Data Processing 
6. Designing Radar Waveforms 
7. Secondary surveillance radar 
8. Propagation Aspects 
9. Radar Studies of the Atmosphere 
10. Over-the-horizon Radar 
11. Radar Remote Sensing 
12. Ground-probing Radar 
13. Multistatic Radar: Multistatic concepts 
14. Electronic Warfare 
15. Recent Developments 
16. The Future of Radar
About the authors
Dr. Simon Kingsley is a lecturer at Sheffield University. He began a lifetime career in radar research with a PhD project that used radar to study the upper atmosphere. After a period as an advanced research fellow, he joined the Marconi Research Centre and led a group concerned with long range radar detection and tracking theory. In 1987 he joined Sheffield University to concentrate on the development of radar techniques, mainly for remote sensing. 
Dr. Shaun Quegan is Director of the Sheffield Centre for Earth Observation Science and leads its Synthetic Aperture Radar (SAR) Research Group