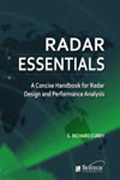 Book title: Radar Essentials: A concise handbook for radar design and performance analysis

Author: G. Richard Curry

Year: 2011

Format: Spiral bound

Product Code: SBRA0290

ISBN: 978-1-61353-007-8

Pagination: 128pp
£21.45 Member price
£33.00

Full price
Description
When you need vital data fast, turn to Radar Essentials. This compact yet comprehensive reference has compiled the most used principles, data, tables, and equations that are used by radar and aerospace system designers on a daily basis. Experts and non-experts alike will find this to be their go-to source for recalling and understanding the fundamentals and employing them in design and performance analysis.
Key features
Discussion of principles, design, and operation including radar functions, types, frequencies, configurations and nomenclature.
Characteristics and capabilities of key subsystems including antennas, transmitters, receivers, T/R modules, and signal and data processing.
Radar performance evaluation techniques and data including radar cross section, signal-to-noise ratio, target detection, search, radar measurements, and tracking.
Discussion and data on the radar environment including atmospheric refraction and losses, rain attenuation, terrain, sea and rain clutter, terrain masking and multipath, ionospheric effects on radar performance, and electronic countermeasures.
Radar techniques including waveform design, moving-target indication (MTI), displaced phase-center arrays (DPCA), pulse Doppler operation, space-time adaptive processing (STAP), and target classification, discrimination and identification.
About the author
G. Richard Curry is a consultant in radar system applications with extensive experience in radar system analysis and simulation, radar design and testing, military R&D planning and technology assessment, and research management. 
He led analysis of radar system applications in military systems at Science Applications International Corporation (SAIC), and at General Research Corporation (GRC). He also designed and analyzed surveillance and tracking radars for the Raytheon Company, performed radar engineering for ballistic missile range testing at Kwajalein, and developed radar signal processing techniques at MIT Lincoln Laboratory. 
Curry served in the US Navy as an Electronics Officer and has degrees in engineering and mathematics from the University of Michigan and an MS in electrical engineering from MIT. He is a member of the Radar System Panel of the IEEE Aerospace and Electronic Systems Society, and is the author of the books Radar Systems Performance Modeling, and Pocket Radar Guide.
Book contents
1. Radar Basics

1.1. Radar Concept and Operation

1.2. Radar Functions

1.3. Types of Radars

1.4. Frequency Bands

1.5. Military Nomenclature

1.6. Radar Configurations



2. Radar Subsystems

2.1. Antennas

2.2. Transmitters

2.3. Receivers

2.4. Transmit/Receive Modules

2.5. Signal and Data Processing



3. Radar Performance

3.1. Radar Cross Section (RCS)

3.2. Signal-to-Noise Ratio

3.3. Detection

3.4. Search

3.5. Measurement

3.6. Tracking



4. Radar Environment

4.1. Atmospheric Losses

4.2. Rain Loss

4.3. Atmospheric Refraction

4.4. Terrain Masking and Multipath

4.5. Radar Clutter

4.6. Ionospheric Effects

4.7. Electronic Countermeasures (ECM)


5. Radar Techniques

5.1. Waveforms

5.2. Moving Target Indication (MTI) and Displaced Phase-Center Array (DPCA)

5.3. Pulse Doppler and Space-Time Adaptive Processing (STAP)

5.4. Synthetic-Aperture Radar (SAR)

5.5. Classification, Discrimination, and Target Identification



6. Computation Aids

6.1. Units and Conversion Factors

6.2. Constants

6.3. Decibels



Symbols

Glossary

References