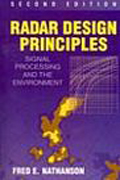 Book title: signal processing and the environment, 2nd Edition

Author: Fred E. Nathanson, Patrick J. Reilly and Marvin N.Cohen

Year: 1999

Format: Paperback

Product Code: SBRA027Z

ISBN: 978-1-89112-150-0

Pagination: 650pp
£46.80 Member price
£72.00

Full price
Description
A true classic in the field, now available once again from SciTech, this widely-respected sourcebook on radar design offers coverage of digital technology, weather radar, microburst detection, and digital correlators. 
Providing a broad look at modern theory as well as a review of all the developments in practical equipment design and construction in recent years, this resource includes four chapters on equations and detection theory, plus seven on waveforms and signal processing. Other chapters include essential data on radar targets and propagation. 
Throughout, the emphasis is on radar design to cope with the "total environment," including unwanted reflections from sea, land, precipitation, chaff, thermal noise, and jamming, rather than any single performance goal. 
The authors also recognize that mapping, weather-sensing, terrain avoidance, altimetry, etc., may be designed for a single-function radar or as modes of a multifunction radar. The last chapter in the book identifies newer, more specialized radar techniques, and describes how to analyze or simulate coherent radars including the limitations and related loss terms."
Book contents
"Chapter 1. Radar and Its Composite Environment
Chapter 2. Review of Radar Range Performance Computations 
Chapter 3. Statistical Relationships for Various Detection Processes 
Chapter 4. Automatic Detection by Nonlinear, Sequential & Adaptive Processes 
Chapter 5. Radar Targets 
Chapter 6. Atmospheric Effects, Weather, and Chaff 
Chapter 7. Sea and Land Backscatter 
Chapter 8. Signal Processing Concepts and Waveform Design 
Chapter 9. Moving Target Indicators (MTI) 
Chapter 10. Environmental Limitations of CW Radars 
Chapter 11. Pulse Doppler and Burst Waveforms 
Chapter 12. Phase-Coding Techniques 
Chapter 13. Frequency-Modulated Pulse Compression Waveforms 
Chapter 14. Hybrid Processors, Meterological Radar, & System Performance Analysis 
Bibliography and References Index"