Principles of Modern Radar: Advanced Techniques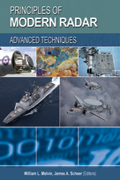 Author: William L. Melvin, James A. Scheer (editors)

Year: 2012

Format: Hardback

Product Code: SBRA0200

ISBN: 978-1-89112-153-1

Pagination: 600 pp.
£76.70 Member price
£118.00

Full price
Description
Principles of Modern Radar: Advanced Techniques is a professional reference for practicing engineers that provides a stepping stone to advanced practice with in-depth discussions of the most commonly used advanced techniques for radar design. It will also serve advanced radar academic and training courses with a complete set of problems for students as well as solutions for instructors.
This book provides an introduction to advanced radar methods available, spanning the gamut of the most exciting radar capabilities, from exotic waveforms, to ultra-high resolution 2D and 3D imaging methods, complex adaptive interference cancellation, multi-target tracking in dense scenarios and more.
The most up-to-date methods, such as multiple-input, multiple-output (MIMO) are covered. All of this material is presented with the same careful balance of quantitative rigor and qualitative insight of Principles of Modern Radar: Basic Principles (SciTech - 2010)
SPECIAL NOTE
As with the Basic Principles textbook, SciTech has collected a cadre of volunteer expert reviewers from the worldwide radar community for this manuscript. Their extensive comments, corrections and insights will guarantee that this will be another "Community-Driven Book."
Book readership
Practicing radar engineers, graduate level students
Book contents
1. Overview
William H. Melvin, James A. Scheer (Georgia Tech Research Institute)
2. Advanced Waveform Techniques
Byron Keel, Mike Baden (Georgia Tech Research Institute)
3. Optimal and Adaptive Multidimensional Waveform Design
Joseph Guerci (Guerci Consulting)
4. MIMO Radar
Michael Davis (Georgia Tech Research Institute)
5. Compressive Sensing
Jason Parker (Air Force Research Laboratory), Matthew Ferrara (Matrix Research, Inc.), Lee Potter (Ohio State University)
6. Stripmap SAR Algorithms
Gregory Showman (Georgia Tech Research Institute)
7. Spotlight SAR Algorithms
Daniel Cook (Georgia Tech Research Institute)
8. Interferometric SAR
Mark Richards (Georgia Tech Research Institute)
9. Adaptive Digital Beamforming
David D. Aalfs (Georgia Tech Research Institute)
10. Clutter Suppression Using STAP
William H. Melvin (Georgia Tech Research Institute)
11. Space-Time Coding for Active Antenna Systems
François Le Chevalier (Thales Air Operations)
12. Electronic Protection
Aram Partizian (Georgia Tech Research Institute)
13. Radar Polarimetry
Krishna Naishadham (Georgia Tech Research Institute)
14. Radar Automatic Target Recognition
Lisa Ehrman, Kristin Bing, Teresa Selee (Georgia Tech Research Institute)
15. Multitarget Tracking
Lisa Ehrman (Georgia Tech Research Institute)
16. Human Detection with Radar (Dismount Detection)
Sevgi Zübeyde Gürbüz (TUBITAK, Turkey)
17. Advanced Processing Methods for Passive Radar Systems
Pierfrancesco Lombardo, Fabiola Colone (University of Rome "La Sapienza)