Principles of Modern Radar: Volume 3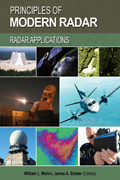 Author: James A. Scheer and William L. Melvin

Year: 2013

Format: Hardback

Product Code: SBRA5030

ISBN: 978-1-89112-154-8

Pagination: 816 pp.
£77.35 Member price
£119.00

Full price
Description
Providing in-depth discussions on the most important application areas in current radar practice, Principles of Modern Radar: Volume 3 includes concise descriptions of the purposes, principal issues and radar methods found in a wide variety of current radar types.
Types of radar considered include;
Low-power continuous wave (CW) radar
Civilian systems such as weather radar and air traffic control
Military applications such as pulse Doppler, fire control, ground moving target indication and others
Unconventional applications such as materials penetrating radar
This final volume provides the reader with a single source of numerous radar applications. Each chapter is authored by highly regarded experts in the field who are active in research and teaching radar practitioners in professional courses.
Community reviewed by multiple experts around the world, this 3rd edition is a self-contained reference for the radar community.
Book readership
This edition will serve as a self-contained reference for those aiming to become experts in an advanced technology or application area. Principles of Modern Radar: Volume 3 is primarily aimed at radar practitioners within military or government and will also be useful for some advanced graduate students.
Book contents
Radar Applications
Continuous wave radar
MMW Radar Characteristics and Applications
Fire Control Radar
Airborne Pulse-Doppler Radar
Multiple-Function Phased Array Radar Systems
Ballistic Missile Defence Radar
Ground Based Early Warning Radar (GBEWR): Technology and Signal Processing Algorithms
Surface Moving Target Indication (SMTI)
Space-Based SAR for Remote Sensing
Passive Bistatic Radar
Air traffic control radar
Weather Radar
Foliage Penetration RADAR
Ground Penetrating Radar
Police Radar