Novel Radar Techniques and Applications Volume 1: Real Aperture Array Radar, Imaging Radar, and Passive and Multistatic Radar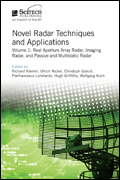 Book title: Novel Radar Techniques and Applications Volume 1: Real Aperture Array Radar, Imaging Radar, and Passive and Multistatic Radar

Author: Richard Klemm, Ulrich Nickel, Christoph Gierull, Pierfrancesco Lombardo, Hugh Griffiths and Wolfgang Koch (Eds.)

Year: 2015

Format: Hardback

Product Code: SBRA512A

ISBN: 978-1-61353-225-6

Pagination: 952pp
£89.05 Member price
£137.00

Full price
Description
Novel Radar Techniques and Applications presents the state-of-the-art in advanced radar, with emphasis on ongoing novel research and development and contributions from an international team of leading radar experts. Each section gives an overview of the latest research and perspectives of the future, and includes a number of chapters dedicated to specific techniques in conjunction with existing operational, experimental or conceptual applications.

Volume 1 covers:
Real aperture array radar, including target parameter estimation and array radar features; robust direct data domain processing; and array radar operation management
Imaging radar, including VideoSAR imaging for real-time persistence; high-resolution wide-swath SAR; interferometric SAR imaging; space-based SAR-Ground moving target indication; 3D & tomographic SAR imaging; bi- and monostatic SAR-GMTI; multistatic and MIMO ISAR techniques; and focussing moving objects using the VSAR algorithm
Passive and multistatic radar, including bistatic clutter modelling; airborne passive radar; forward scatter radar; through-the-wall imaging radar; short-range passive radar potentialities; GNSS-based passive radar; passive radar with airborne receivers; multi-illuminator and multistatic passive radar; and passive MIMO radar networks.
You might also be interested in Novel Radar Techniques and Applications Volume 2: Waveform Diversity and Cognitive Radar, and Target Tracking and Data Fusion or Novel Radar Techniques and Applications 2 Volume set.

About the Editors
Richard Klemm has recently retired after a distinguished career at FGAN FHR (now Fraunhofer FHR), a research institute working in the areas defence and security, and decades of service to the radar community. In his spare time Richard Klemm is a passionate classical pianist.
Ulrich Nickel has recently retired after a career as head of the research group Data Fusion for Array Sensors of the Sensor Data and Information Fusion (SDF) department of Fraunhofer FKIE in Wachtberg, Germany.
Christoph H. Gierull is a Senior Scientist with Defence R&D Canada, Ottawa Research Centre assuming the duties of Group Leader, Space-based Radar as well as Adjunct Professor at Laval University, Quebec and Simon Fraser University, British Columbia, Canada.
Pierfrancesco Lombardo is Full Professor at University of Rome "La Sapienza", where he leads the "Radar, Remote Sensing and Navigation" (RRSN) group. He is Technical Editor for Radar Systems of IEEE Transactions on Aerospace and Electronic Systems.
Book readership
This book is essential reading for R&D researchers and engineers in government research centres, industries, universities and the military colleges who work on radar.
Book contents