Electronic Warfare Pocket Guide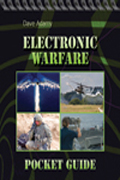 Book title: Electronic Warfare Pocket Guide: definitions, concepts, equations

Author: Dave Adamy

Year: 2011

Format: Spiral bound

Product Code: SBRA0060

ISBN: 978-1-89112-161-6

Pagination: 32

Stock Status: Out of stock

The estimated arrival date is May 2015
Your account will only be charged when we ship your item.
£10.40 Member price
£16.00

Full price
Description
The Electronic Warfare Pocket Guide is the perfect companion for any user that needs to access key definitions, concepts, and equations for their work in the field, lab, or even in military theater of operations.
While this concise guide fits in almost any pocket, it packs a real punch by providing users the answers to real world electronic warfare problems that come up every day in concept development, technique development, system design, system testing, operational testing, mission planning and operations.
 It is especially useful (if combined with training) for members of the military who are in combat and need to use EW techniques to counter missile-strikes, improvised explosive devices, and other threats. This booklet could usefully go into the pocket of every pilot, sailor, soldier and marine.
About the author
Dave Adamy is an internationally recognized expert in electronic warfare. He has 47 years experience as a systems engineer and program technical director, developing EW systems from DC to Light, deployed on platforms from submarines to space, with specifications from QRC to high reliability.
For the last 26 years, he has run his own company, performing studies for the US Government and defense contractors. He has also presented dozens of courses in the US, Europe and Australia on Electronic Warfare and related subjects He has published over 180 professional articles on Electronic Warfare, receiver system design and closely related subjects, including the popular EW101 column in the Journal of Electronic Defense.
 He has eleven books in print and is a past National President of the Association of Old Crows.
Book contents
EW Definitions & Subareas

Frequency

Antennas

Radio Propagation

Receiver Sensitivity

Effective Range

Communication Jamming

Communications Electronic Protection

Jamming LPI Communications

Radar Characteristics

Radar Jamming

Radar Electronic Protection

Expendable Countermeasures

Decoys

Decibels (dB)

Graph & Nomograph Instructions

List of Symbols in Formulas

List of Abbreviations