Digital Techniques for Wideband Receivers, 3rd Edition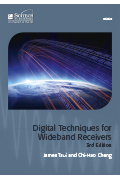 Book title: Digital Techniques for Wideband Receivers, 3rd Edition

Author: James Tsui and Chi-Hao Cheng

Year: 2015

Format: Hardback

Product Code: SBRA5110

ISBN: 978-1-61353-217-1

Pagination: 608pp
£57.85 Member price
£89.00

Full price
Description
This fully revised and updated third edition of Digital Techniques for Wideband Receivers offers a comprehensive design guide for digital processing work with today's complex receiver systems.
Digital Techniques for Wideband Receivers is widely recognised as the definitive reference and training text on digital signal processing techniques in radio receivers used for Electronic Warfare applications.
This third edition of Digital Techniques for Wideband Receivers has been fully revised and modernised to bring the reader up-to-date with the latest modern techniques including; wideband electronic warfare receivers, the detection of FM and BPSK radar signals, analog-to-information, time-reversal filter and an encoder example.
From fundamental concepts and procedures to recent technology advances in digital receivers, readers will receive practical solutions to important wideband receiver problems.
With the addition of brand new material, (including four entirely new chapters) this new book has been updated with many of the latest concepts to help users design receivers that are relevant for today's electronic warfare systems.
About the Authors
Dr. James Tsui is the world's leading authority on Electronic Warfare (EW) receiver technology. His pioneering work has resulted in over 50 awarded patents, and he has been recognised as Air Force Research Laboratory (AFRL) and Institute of Electrical and Electronics Engineers (IEEE) Fellow.
Dr. Chi-Hao Cheng is currently a Professor in the Department of Electrical and Computer Engineering at Miami University, Ohio. His primary professional interests lie in electronic warfare receiver development.
Book readership
Digital Techniques for Wideband Receivers, 3rd Edition is an ideal reference for defence digital signal processing engineers in government and industry who focus on radio receiver systems for electronic warfare applications.
Book contents