Angle of Arrival Estimation Using Radar Interferometry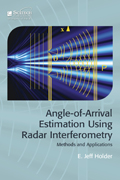 Author: E.Jeff Holder

Year: 2013

Format: Hardback

Product Code: SBRA5080

ISBN: 978-1-61353-184-6

Pagination: 360 pp.
£65.00 Member price
£100.00

Full price
Description
Radar interferometers provide a cost-effective radar architecture to achieve a greater degree of angle accuracy for enhanced target tracking.
Presenting a comprehensive understanding of various radar interferometer architectures, Angle of Arrival Estimation Using Radar Interferometry aims to quantify interferometer angle estimation accuracy.
The interferometer architectures described include; a basic digital interferometer, a monopulse interferometer, an orthogonal interferometer and signal processing algorithms. The techniques described show high accuracy of arrival estimation while also reducing the cost of traditional radar tracking systems.
Featuring some new material and alternative derivations on radar target tracking, Angle of Arrival Estimation Using Radar Interferometry identifies and quantifies radar-based measurement errors on the performance of angle-of-arrival estimation.
By exploring interferometry and beyond, this book offers a unique perspective and an in depth look at the derivation of angle error equations for a radar interferometer as affected not only by additive noise but by other error effects such as multipath, glint, and spectral distortion.
About the author
Dr. E. Jeff Holder has worked in the field of radar interferometry for 20 years including a post in the Sensors and Electromagnetic Applications Laboratory of the Georgia Tech Research Institute, Georgia Institute of Technology University. He is also currently the President of Propagation Research Associates, Inc. (PRA) which was founded to develop innovative radar technology.
Book readership
Angle of Arrival Estimation Using Radar Interferometry would suit practicing radar design engineers and researchers within both the radar community and the military industrial sector.
Book contents
Applications of RF Interferometry
Probability Theory
Radar Fundamentals
Radar Angle-of-Arrival Estimation
Radar Waveforms
The Radar Interferometer
Interferometer Signal Processing
Interferometer Angle-of-Arrival Error Effects