Wind Power Integration: Connection and system operational aspects, 2nd Edition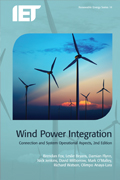 Author: Brendan Fox, Damian Flynn and Leslie Bryans

Year: 2014

Format: Hardback

Product Code: PBRN0140

ISBN: 978-1-84919-493-8

Pagination: 320 pp.
£57.85 Member price
£89.00

Full price
Description
Wind Power Integration: Connection and System Operational Aspects, 2nd edition has been fully revised and updated to take account of the significant growth in wind power deployment in the past few years to provide a wide-ranging discussion on all major aspects of wind power integration into electricity supply systems.
The rapid growth of wind generation has many implications for power system planning, operation and control. Network development, voltage rise, protection, monitoring and control are all connection problems common to all wind power generation.
New discussions added include; the developments in wind turbine generator technology and control, the network integration of wind power, innovative ways to integrate wind power when its generation potential exceeds 50% of demand, how forecasting errors have affected system operation and an update on how the wind energy sector has fared in the marketplace.
Topics covered include:
the development of wind power technology and its world-wide deployment
a primer in electric power engineering for non-electrical engineers
wind power technology and the interaction of various wind turbine generator types with the utility network
utility networks, and how they may be developed to accept significant wind power
how operational practice can be modified to take account of a variable power source with limited scope for control
wind power forecasting
the challenges faced by wind energy in modern electricity markets
Book readership
Wind Power Integration: Connection and system operational aspects, 2nd Edition will appeal to engineers from various disciplines looking for an overview of a technology that is providing a major impetus for sustainable electricity supply in the twenty-first century. Researchers, advanced postgraduate students in renewable energy and design engineers working with wind power devices will also benefit from this book.

Book Review:

First published in 2007, this second edition offers substantially updated coverage and discussion of how wind power generation can be built into and operated with today's electricity supply systems. Catering for the broadest audience, there's a general introduction to wind turbine designs and technology, and their development. It also offers a primer on electrical power system theory along with the latest turbine generators and control systems in use, plus basic integration considerations such as voltage maintenance and power quality.
The real meat of the book arrives with the operation of wind systems within national power grids, covering areas such as frequency control, energy storage and demand-side management. There's plenty of new detail on network integration, looking at innovative ways to manage wind power when its generation potential exceeds 50 per cent of demand, plus a chapter on the central role of weather forecasting. It considers today's deregulated power markets and support mechanisms, then finishes by discussing future grid codes and how wind will fare in competition with other renewables in the years to come. Real Power Magazine (Autumn 2014)
Book contents
1 Introduction
1.1 Overview 1
1.2 World energy and climate change 2
1.2.1 Renewable energy 2
1.3 Wind energy 5
1.3.1 Background 5
1.3.2 Changes in size and output 6
1.3.3 Energy productivity 7
1.4 Design options 7
1.4.1 Blades 8
1.4.2 Control and the power train 8
1.4.3 Summary of principal design options 9
1.5 Wind farms 10
1.5.1 Offshore wind 11
1.6 Economics 11
1.6.1 Wind turbine prices 11
1.6.2 Electricity-generating costs 11
1.6.3 Carbon dioxide savings 13
1.7 Integration and variability – key issues 14
1.7.1 Wind fluctuations 15
1.7.2 Capacity credits 16
1.7.3 Embedded generation benefits and impacts 17
1.7.4 Storage 17
1.8 Future developments 18
1.8.1 Technology 18
1.8.2 Future price trends 18
1.8.3 Market growth 19
1.8.4 Integration issues 19
2 Power system fundamentals 21
2.1 Introduction 21
2.2 Basic principles 21
2.2.1 Electromagnetism 21
2.2.2 Magnetic circuits 23
2.2.3 Electromagnetic induction 24
2.2.4 Electricity supply 25
2.2.5 The transformer 26
2.3 AC power supply 28
2.3.1 Power in steady-state AC systems 28
2.3.2 Phasors 30
2.3.3 Power in AC systems 33
2.4 Introduction to power systems 34
2.4.1 Three-phase systems 34
2.4.2 Comparison of single- and three-phase systems 35
2.4.3 Three-phase supply 36
2.4.4 Balanced star-connected load 37
2.4.5 Balanced delta-connected load 38
2.4.6 Some useful conventions 39
2.4.7 The complex VA product 39
2.4.8 Equivalent single-phase 41
2.4.9 The per unit system 41
2.5 Power transmission 44
2.5.1 Line parameters 44
2.5.2 Line models 47
2.5.3 Power transmission 48
2.5.4 Voltage regulation 49
3 Wind power technology 53
3.1 Introduction 53
3.2 Historical review of wind power technology 53
3.3 Design choices for large wind turbine generators 55
3.4 Energy extraction and power regulation 56
3.4.1 Energy extraction across the rotor disk 56
3.4.2 Power regulation 59
3.5 Fixed-speed wind turbines 64
3.5.1 Review of the induction (asynchronous) machine 64
3.5.2 Fixed-speed induction generator-based wind turbine 70
3.6 Variable–speed wind turbines 72
3.6.1 Doubly fed induction generator wind turbine 73
3.6.2 Wide-range variable-speed synchronous
generator wind turbine 78
Note: The Betz Limit 86
4 Network integration of wind power 89
4.1 Introduction 89
4.2 Wind farm starting 89
4.3 Network voltage management 91
4.3.1 The voltage level issue 91
vi Wind power integration
4.4 Thermal/active power management 106
4.4.1 Planning approaches/standards 106
4.4.2 Wind farm connection issues 107
4.4.3 Backbone system issues 109
4.4.4 Equipment issues 113
4.5 Network power quality management 115
4.5.1 Dips 116
4.5.2 Harmonics 116
4.5.3 Flicker 117
4.6 Transient system performance 117
4.6.1 Frequency performance and dynamic response 117
4.6.2 Transient response 122
4.7 Fault level issues 127
4.7.1 Equipment capability 127
4.8 Information 129
4.9 Protection 129
4.9.1 System protection 129
4.9.2 Transmission connected wind farms 130
4.9.3 Distribution connected wind farms 133
4.9.4 Wind farm protection 135
5 Operation of power systems 137
5.1 Introduction 137
5.2 Load-frequency control 137
5.2.1 Unit load-frequency control 142
5.2.2 Emergency frequency control 145
5.3 System operation with wind power 150
5.3.1 Overview of system operational challenges of wind power 150
5.3.2 Wind power in Ireland 153
5.3.3 System operation and wind variability 168
5.3.4 System operational modes 179
5.3.5 Capacity credit 186
5.3.6 Ancillary service provision 190
5.3.7 Wind turbine generator inertial response 198
5.3.8 Distributed generation protection 202
5.4 Energy balance 204
5.5 Energy storage/demand-side participation 207
5.5.1 Conventional energy storage 209
5.5.2 Demand-side participation 213
5.5.3 Hydrogen energy storage 215
6 Wind power forecasting 217
6.1 Introduction 217
6.2 Meteorological background 218
Contents vii
6.2.1 Meteorology, weather and climate 218
6.2.2 Atmospheric structure and scales 218
6.3 Numerical weather prediction 219
6.4 Persistence forecasting 222
6.4.1 Error measures 222
6.4.2 Reference models 225
6.5 Advanced wind power forecasting systems 229
6.5.1 Prediktor 234
6.5.2 Statistical models 238
6.5.3 Ensemble forecasting 242
6.6 Conclusions 244
7 Wind power and electricity markets 245
7.1 Introduction 245
7.2 The electrical energy market 247
7.3 Balancing, capacity and ancillary services 249
7.4 Support mechanisms 251
7.5 Costs 252
7.6 Benefits 255
7.7 Investment and risk 256
7.8 Market development 257
8 The future 259
8.1 Introduction 259
8.2 Grid codes and beyond 260
8.3 Co-existence with other forms of low-carbon generation 261
8.4 Demand-side participation 262
8.5 Supply diversity 263