Wide Area Monitoring of Interconnected Power Systems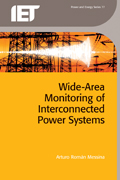 Author: Professor Arturo Roman Messina

Year: 2015

Format: Hardback

Product Code: PBPO0770

ISBN: 978-1-84919-853-0

Pagination: 256pp
£61.75 Member price
£95.00

Full price
Description
Wide Area Monitoring of Interconnected Power Systems provides a comprehensive treatment on the development and application of new analytical techniques, based on advanced data-driven signal processing methods for the analysis and characterisation of both ambient power system data and wide area phenomena in large interconnected power systems.
This book is the first systematic account of advanced health monitoring and control systems and near time power system analysis and security monitoring. Inspired by recent developments in multi-sensor data fusion, multi-temporal data assimilation techniques for power system monitoring are proposed and tested in the context of modern wide-area monitoring system architectures.
In addition, recent advances in understanding and modeling nonlinear, time-varying power system processes are reviewed and factors affecting the performance these techniques are also discussed. An emphasis on the challenges involved in realistic monitoring, visualization and analysis of actual disturbance events is provided along with examples of applications to a wide range of power networks.
A number of algorithms and examples are presented to which helps to aid the readers understanding of the material throughout the book.
Topics covered include;
• wide-area monitoring and analysis systems
• wide-area monitoring system architectures
• spatio-temporal modeling of power system dynamic processes
• advanced data processing and feature extraction
• multi-sensor multitemporal data fusion
• monitoring the status of the system
• near real-time analysis and monitoring
• interpretation and visualization of wide-area PMU measurements
About the Author
Professor Arturo Roman Messina is on a number of editorial and advisory boards including; Electric Power Systems Research, IEEE Transactions on Power Systems, Electric Power Components and Systems Journal, and International Journal on Power System Optimization. A Fellow of the IEEE, he is the editor of "Advanced Wide-Area angle stability and voltage control" (2011, Nova Science Publishers, Inc) and "Interarea Oscillations in Power Systems: A Nonlinear and Nonstationary Perspective" (Springer, 2009).
Book review
"Big Data" is one of the buzz words of our time, due to the tremendous amount of data that is produced by billions of smart devices everywhere around us. (...) One of the big questions that many people are asking is "What do we do with all this data?" The book by Prof. Messina is one of the answers to this question. The author is an IEEE Fellow and one of the global authorities' on wide area electric power systems stability. (...) In this book Prof. Messina looks at the impact of all the new sensors, advanced communications systems and improved data processing techniques which make wide area system monitoring a realistic capability of energy management and system integrity protection systems.
PAC World, January 2016 Issue
Book readership
This book will be of interest to students, researchers and engineers involved in the study, design, analysis and control of power systems. Advanced undergraduate students enrolled in smart grid programs and undergraduate senior courses for advanced students in electrical engineering will also find this book useful.

The subject of "Wide Area Monitoring of Interconnected Power Systems" has wide applications in biological and medical (health monitoring) sciences and engineering (structural health assessment, forecasting and prediction, sensors) and will be of interest to those in this field.
Book contents