Energy Storage at Different Voltage Levels: Technology, integration, and market aspects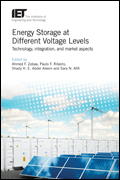 Book title: Energy Storage at Different Voltage Levels: Technology, integration, and market aspects

Author: Ahmed Faheem Zobaa, Paulo F. Ribeiro, Shady Hossam Eldeen Abdel Aleem and Sara N. Afifi (eds.)

Year: 2018

Format: Hardback

Product Code: PBPO1110

ISBN: 978-1-78561-349-4

Pagination: c.348pp
£74.75 Member price
£115.00

Full price
Description
In an era of increasing contributions from intermittent renewable resources, energy storage is becoming more important to ensure a resilient and reliable electricity supply. Energy Storage at Different Voltage Levels presents the technology, integration and market aspects of energy storage in the various generation, transmission, distribution, and customer levels of the grid.
Starting with a comprehensive overview of energy storage technologies and their emerging codes and standards, the book discusses energy storage capacity requirements in electricity mix scenarios at different levels; energy storage in microgrids; energy storage in electricity markets; the role of storage in transmission investment deferral and management of future planning uncertainty; sizing of battery energy storage for end user application under time of use pricing; evaluation of multiple storage benefits and optimization of energy storage operations in distribution networks; use and role of flywheel energy storage systems; forecasting and optimization for multi-purpose application of energy storage systems to deliver grid services (a case study of the smarter network storage project); and optimal coordination between generation and storage under uncertainties. Also included are country-specific case studies from Romania, Italy and Turkey.
About the Editors
Ahmed Faheem Zobaa is a Senior Lecturer in electrical and power engineering, an MSc Course Director and a Full Member of the Institute of Energy Futures at Brunel University London, UK. His main areas of expertise include power quality, renewable energy and smart grids. Dr. Zobaa is a Senior Fellow of the Higher Education Academy. He is a Fellow of the Institution of Engineering and Technology, the Energy Institute, the Chartered Institution of Building Services Engineers, the Institution of Mechanical Engineers, and the African Academy of Science.
Paulo F. Ribeiro, BSEE, MBA, PhD, is a Professor of Electrical Engineering at the Federal University of Itajubá, Brazil. His research interests include power systems, power electronics and power quality engineering, transmission systems, and superconducting magnetic energy storage systems, smart grids, engineering education and philosophy of technology. He is active with CIGRE, IEEE, and IEC Working Groups. He has published over 350 papers, several book chapters and three books.

Shady Hossam Eldeen Abdel Aleem is an Assistant Professor at 15th of May Higher Institute of Engineering, Egypt, where he works in the field of electric machines, optimization problems, power quality, electric circuits, and engineering mechanics.
Sara N. Afifi received her Ph.D. in Electrical Engineering & Electronics Research from Brunel University London, UK in 2017. Dr Afifi has several years of industry experience in building services consultancy and electric distribution utilities. Currently, she is a network planning and investment engineer at Scottish and Southern Electricity Networks, U.K.
Book readership
This book is aimed at researchers, as well as practicing engineers involved with modern electrical power systems and smart grids. It is also for advanced students studying related subjects.
Book contents