Power Transformer Condition Monitoring and Diagnosis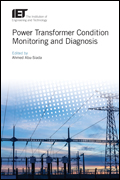 Book title: Power Transformer Condition Monitoring and Diagnosis

Author: Ahmed Abu-Siada (Eds.)

Year: 2018

Format: Hardback

Product Code: PBPO1040

ISBN: 978-1-78561-254-1

Pagination: 328pp
£74.75 Member price
£115.00

Full price
Description
Power transformers are a key asset for electricity utilities around the globe. However, aging populations of large power transformers require reliable monitoring and diagnostics techniques to extend the asset's lifetime and minimise the possibility of catastrophic failure. This book describes the most popular power transformer condition monitoring techniques from principles to practice.
Topics covered include concepts and challenges in power transformer condition monitoring and diagnosis; dissolved gas analysis, measurements and interpretations; moisture analysis for power transformers; assessing degree of polymerisation value considering thermal ageing and paper moisture; frequency response analysis; monitoring of power transformers by mechanical oscillations; lifecycle management of power transformers in a new energy era; and other topics in power transformer asset management and remnant life. Each chapter covers the fundamentals and theory of the topic, and conveys techniques to measure relevant parameters and assess or interpret the results.
Power Transformer Condition Monitoring and Diagnosis is essential reading for researchers in academia and industry involved with power transformer R&D,engineers in utilities working with equipment monitoring techniques, and advanced students in power engineering.
About the Editor
Ahmed Abu-Siada is an Associate Professor at the ECE Department at Curtin University, Australia. Prior to this, Dr. Abu-Siada served as Senior Electrical Engineer with Qatar Petroleum corporate training industrial. He has served as Vice-Chair for the IEEE Computational Intelligence Society (CIS), course coordinator for Master of Electrical Utility Engineering at Curtin University, and board memberships with a number of related journals.
Book contents