Smarter Energy: from Smart Metering to the Smart Grid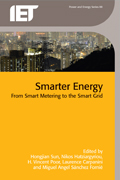 Book title: Smarter Energy: from Smart Metering to the Smart Grid

Author: Dr. Hongjian Sun, Prof. Nikos Hatziargyriou, Prof. H. Vincent Poor, Laurence Carpanini, Miguel Angel Sánchez Fornié (eds.)

Year: 2016

Format: Hardback

Product Code: PBPO0880

ISBN: 978-1-78561-104-9

Pagination: 520pp
£81.90 Member price
£126.00

Full price
Description
This book presents cutting-edge perspectives and research results in smart energy spanning multiple disciplines across four main topics: smart metering, smart grid modeling, control and optimisation, and smart grid communications and networking.

Topics covered include;
privacy-preserving data aggregation in smart metering systems
smart price-based scheduling of flexible residential appliances
smart tariffs for demand response from smart metering platforms
decentralised models for real-time renewable integration in future grid
distributed and decentralised control in future power systems
multi-objective optimisation for smart grid system design
frequency regulation of smart grid via dynamic demand control and battery energy storage systems
distributed frequency control and demand-side management
game theory approaches for demand side management in the smart grid
energy storage systems and grid integration
overview of research in the ADVANTAGE project
big data analysis of power grid from random matrix theory
a model-driven evaluation of demand response communication protocols for smart grid
energy-efficient smart grid communications
cyber security of smart grid state estimation: attacks and defense mechanisms

About the Editors

Hongjian Sun is a Lecturer in smart grids with the University of Durham, U.K. He has made one contribution to the IEEE 1900.6a Standard and published four book chapters and more than 60 papers in refereed journals and conferences. His recent research interests include smart grids, wireless communications, and signal processing.
Nikos D. Hatziargyriou is Chairman and CEO of the Hellenic Distribution Network Operator and is Professor in Power Systems in the Electrical and Computer Engineering Department of the National Technical University of Athens. He is chair of the EU Technology Platform on SmartGrids and author of one book and of more than 180 journal publications and 500 conference proceedings papers.
H. Vincent Poor, FREng, ForMemRS, is the Michael Henry Strater University Professor at Princeton University. His research interests are in wireless communications, smart grid, and related fields. He holds a Ph.D. in EECS from Princeton, and honorary degrees from a number of universities. In 2016, he received the John Fritz Medal.
Laurence Carpanini leads the development of Smart Energy Solutions for IBM in Europe. He has over 30 years' experience in the sector, providing strategic leadership, subject matter expertise and an infectious enthusiasm for smarter energy solutions driving industry transformation.
Miguel Angel Sánchez Fornié is Director of Global Smart Grids at the Spanish utility company IBERDROLA and Professor in the postgraduate course of energy at the University of Comillas. He is a member of the UTC Board of Directors and President of its European division, member of the Advisory Committee of the European platform "SMART GRIDS", and member of the Advisory Committee of the Smart Grids Task Force (DG Energy).
Book readership
This book is aimed at researchers in academia and industry in multiple disciplines (e.g. electrical/electronic engineering, telecommunications, computing) working in smart grid technologies and practical applications.
Book contents