Wireless Power Transfer: Theory, technology, and applications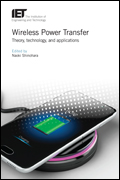 Book title: Wireless Power Transfer: Theory, technology, and applications

Author: Naoki Shinohara (Ed.)

Year: 2018

Format: Hardback

Product Code: PBPO1120

ISBN: 978-1-78561-346-3

Pagination: 296pp
£74.75 Member price
£115.00

Full price
Description
Wireless Power Transfer (WPT) enables power to be transferred from a grid or storage unit to a device without the need for cable connections. This can be performed by inductive coupling of magnetic fields as well as by direct radiative transfer via beams of electromagnetic waves, commonly radiowaves, microwaves or lasers. Inductive coupling is the most widely used wireless technology with applications including charging handheld devices, RFID tags, chargers for implantable medical devices, and proposed systems for charging electric vehicles. Applications of radiative power transfer include solar power satellites and wireless powered drone aircraft.
This book covers the very latest in theory and technology of both coupling and radiative wireless power transfer. Topics covered include the basic theory of inductive coupling and resonance coupling WPT; multi-hop WPT; circuit theory for wireless couplers; inverter/rectifier technologies for WPT systems; basic theory of WPT via radio waves; technologies of antenna and phased array for WPT via radio waves; transmitter/rectifier technologies for WPT via radio waves; applications of coupling WPT for electric vehicle charging; applications of long-distance WPT; and biological interactions of electromagnetic fields and waves.
About the Editor
Naoki Shinohara is Professor at Kyoto University, Japan. His research focuses on solar power satellite, and technology and applications of microwave power transfer. He has been working on wireless power transfer technologies for 25 years. Memberships and positions include the IEEE MTT-S Technical Committee 26 (Wireless Power Transfer and Conversion) chair, IEEE Wireless Power Transfer Conference founder and advisory committee member, international journal of Wireless Power Transfer executive editor, 1st committee chair of IEICE Wireless Power Transfer, Space Solar Power Systems Society board member, Wireless Power Transfer Consortium for Practical Applications (WiPoT) chair, and Wireless Power Management Consortium (WPMc) chair.
Book readership
This book is ideal for researchers and PhD students in academia and related industry (including EV industry). Also it is highly suited for engineers and practitioners involved with wireless power transmission.
Book contents