Power Market Transformation: Reducing emissions and empowering consumers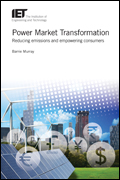 Book title: Power Market Transformation: Reducing emissions and empowering consumers

Author: Barrie Murray

Year: 2018

Format: Hardback

Product Code: PBPO1240

ISBN: 978-1-78561-481-1

Pagination: 416pp
£65.00 Member price
£100.00

Full price
Description
This book describes recent developments in the power and energy markets that are driving major changes in the generation mix, network requirements and customer engagement. The industry now faces new challenges associated with global warming and escalating demand from developing countries such as China and India. The effect of government interventions to manage changes and to meet emission targets has resulted in an industry that is neither a free market nor centrally coordinated and often lacks strategic direction. The uncertainty has resulted in a dearth of investment in generation and unprecedented low margins of spare capacity. This book provides an analysis of the changes and quantifies their impact. It reviews strategic decisions in the management of changes in the sector and aims to identify the optimal way forward to meet the triple objectives of security, affordability and sustainability with low emissions. It focuses on the economic aspects of initiatives to provide insight into their interaction. It also provides insight into the opportunities in the sector to the many new potential players.

Power Market Transformation is based on the most recent developments in the energy sector and brings together all the initiatives that interact physically through the common network and financially through the energy market. It draws on extensive international experience in all sectors of the industry to bring clarity to the complex interactions. It includes worked examples and questions providing a basis for study and examination, and will be of value to engineers, economists, researchers and students in all countries undergoing a transition.
About the Author
Barrie Murray is a well-known author and consultant. Since 1990, he has worked on the development and operation of liberalised electricity markets as the principal of Electricity Market Services Ltd. Recognised as an international expert in power system markets and economics, he has undertaken consultancy assignments around the world providing services to investors, banks, government agencies and utilities engaged in restructuring the industry and implementing power markets. The author has a PhD based on related work, is a Fellow of the UK Institution of Engineering and Technology and a Fellow of the Chartered Management Institute. He acted as a tutor for Bath University developing and tutoring an MSc module.


Book readership
This book is essential reading for engineers, economists, researchers and students working in energy markets.
Book contents