Power System Stability: Modelling, Analysis and Control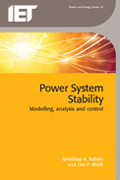 Author: Abdelhay A. Sallam and Om P. Malik

Year: 2015

Format: Hardback

Product Code: PBPO0760

ISBN: 978-1-84919-944-5

Pagination: 472pp
£71.50 Member price
£110.00

Full price
Description
Power System Stability: Modelling, Analysis and Control provides a comprehensive treatment of the subject from both a physical and mathematical perspective and covers a range of topics including modelling, computation of load flow in the transmission grid, stability analysis under both steady-state and disturbed conditions, and appropriate controls to enhance stability.
Organised into four sections; (I) Modelling, (II) Power Flow, (III) Stability Analysis, (IV) Stability Enhancement and Control), this book begins with an introduction to stability modelling, describing the dynamic behaviour of power systems which in turn leads to the modelling of each component in the power system. Different techniques are introduced to access the system stability and methods are described that can be used to enhance stability and control the system.
Power System Stability: Modelling, Analysis and Control also covers the development and physical real-time implementation of analytical and artificial intelligence based adaptive power system stabilizers to improve power system dynamic stability.
Topics covered include;
Modelling of the synchronous machine
The synchronous machine connected to power systems
Modelling of transformers
Transmission lines and loads
Power flow analysis
Optimal power flow
Small signal stability
Transient stability
Transient energy function methods
Artificial intelligent techniques
Power system stabilizers
Series compensation
Shunt compensation
Compensation devices
Recent technologies
About the Authors
OM P. Malik, FEIT, LFIEEE has taught and carried out extensive research in the area of rotating electric machines, adaptive and AI control, and digital protection of power systems. He was a pioneer in the development of adaptive controllers for real-time applications to improve power system stability and such controllers are employed as power system stabilizers on large generating units.
Abelhay A. Sallam, PhD, is a Professor Emeritus of Electrical Engineering at the Port-Said University, Egypt. Dr. Sallam has taught courses on a variety of subjects including power systems, computer methods in power system analysis and distribution systems. He has also served as a consultant, advising companies on the design, installation of power networks, substations, and electric distribution systems.
Book review
The objective of this book is to present not only the most fundamental concepts and ideas in power system stability but also the enhancement and control methods. To this end, a large amount mathematical modelling and calculations are presented in the book as well as a comprehensive introduction to each of the important components of the system. Consequently the book covers a broad spectrum of topics, which are only part of the author's researches. Also, the book presents a lot of references for further understanding and learning the power system stability. The book presents all the content clearly and is easy to be followed. Especially, the inclusion of series and shunt compensation reflects the trends of employment of more power electronic devices, the introduction of various energy technologies shows the emerging energy regulation approaches, and the presentations of PMU/WAMS provide the stability control more choices. All of these demonstrate the state-of-art of the new development of power system analysis and control, which are very valuable.
Jie Song, Ph.D, MIEEE, Associate Professor, Peking University
Book readership
Power System Stability: Modelling, Analysis and Control will provide academics and advanced students in power engineering and control with comprehensive knowledge of the stability of power systems from both a physical and mathematical perspective. This book will also be of use to engineers involved in the study, design, analysis and control of power systems.
Book contents