Multicore Simulation of Power System Transients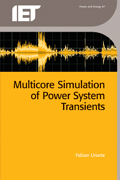 Author: Fabian Uriarte

Year: 2013

Format: Hardback

Product Code: PBPO0670

ISBN: 978-1-84919-572-0

Pagination: 312 pp.
£61.10 Member price
£94.00

Full price
Description
Multicore Simulation of Power System Transients introduces a notional power system model consisting of hundreds of power apparatus and is used to demonstrate how to partition and parallelise the simulation of power system transients on a multicore desktop PC.
The power system throughout Multicore Simulation of Power System Transients is discretised and formulated using the mesh and nodal methods. The author shows that the mesh method can result in matrices that are 99% sparse and that graph theory is not required.
Several examples are included in this new book to conceptually show how power systems are partitioned and parallelised. To provide a reference on how fast a multicore solver can be, parallel simulation runtimes are compared against MATLAB/Simulink.
Topics covered include: power system modelling in the time domain, discretisation, network formulation, network partitioning, multithreading and performance analysis.
About the Author
Fabian Uriarte has written several papers on multicore computer simulation and is a Research Associate at the Center for Electromechanics, The University of Texas at Austin, USA. His research interests include parallel simulation of large-scale power systems, ship power systems, power electronics, power converters, micro grids, smart grids, modelling, simulation, and software development.
Book readership
Multicore Simulation of Power System Transients will be of interest to electrical engineers, graduate students, software developers and researchers involved in the development and application of power system simulators.
Book contents
1 Introduction
Scope and purpose
Assumed background
Contributions
Statement of the problem and hypothesis
Organization
2 The power system model
Power system model System size
System variants
Summary
3 Time domain simulation
The time grid
Time interpolation
Time loop
Timestep selection
Summary
4 Discretization
Discretization
Electrical network discretization
Control network
Summary
5 Power apparatus models
Cables
Static loads
Protective devices
Motor drive
Transformers
Generation
Summary
6 Network formulation
Multi-terminal components
Buses
Forming the mesh matrix
Forming the nodal matrix
Summary
7 Partitioning
Diakoptics
Accuracy
Zero-immittance tearing
Mesh tearing
Node tearing
Tearing examples
Validation
Graph partitioning Overall difference between mesh and node tearing
Summary
8 Multithreading
Solution procedure
Parallel implementation in C#
Summary
9 Performance analysis
Performance metrics Benchmark results and analysis
Summary of results
Summary
10 Overall summary and conclusions