Methane and Hydrogen for Energy Storage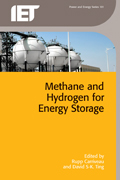 Book title: Methane and Hydrogen for Energy Storage

Author: Professor Rupp Carriveau & Professor David S-K. Ting (eds.)

Year: 2016

Format: Hardback

Product Code: PBPO1010

ISBN: 978-1-78561-193-3

Pagination: 176pp
£61.75 Member price
£95.00

Full price
Description
Methane and hydrogen are important energy carriers, relatively clean compared to coal and oil, and are poised to play an important role in replacing these in a modern, low-emission energy system. This book explores some of leading advances in methane and hydrogen storage as well as the interesting link between these two important elements in our evolving energy system mosaic.
Topics covered include;
Hydrogen Storage and Compression
Power-to-Gas for energy System Integration and Storage
Methanation for Power-to-Gas Applications
Production of Hydrogen from Methane decarbonisation into Power to Gas scenarios
Power-to-Gas in an Ancillary Service Market
Methane in MOFs: Where, Why and How
Thermal Management as a Key in Storing Adsorbed Natural Gas
Gas Hydrate Potential and Development for Methane Storage

About the Editors

Professor Rupp Carriveau is at the Turbulence & Energy Laboratory at the University of Windsor, Canada where his research focuses on clean energy generation, storage, and smart optimisation using different technologies. He serves on the boards of several related journals, and is President of the International Underwater Compressed Air Energy Storage Society.
David S-K. Ting is a Professor in Mechanical, Automotive and Materials Engineering and the founder of the Turbulence & Energy Laboratory at the University of Windsor, Canada. To date, he has co-supervised over forty graduate students primarily in the Energy and Turbulence areas and co-authored more than eighty related journal papers, which has earned him an impressive contact network.
Book readership
This book is essential reading for researchers in academia and industry involved with natural gas and energy storage and developments in the transition to a hydrogen economy.
Book contents