The Lightning Flash, 2nd Edition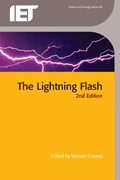 Author: Vernon Cooray (ed.)

Year: 2014

Format: Hardback

Product Code: PBPO0690

ISBN: 978-1-84919-691-8

Pagination: 928
£92.95 Member price
£143.00

Full price
Description
With contributions from today's leading lightning engineers and researchers, this updated 2nd edition of Vernon Cooray's classic text, The Lightning Flash provides the reader with an essential introduction to lightning and its impact on electrical and electronic equipment.
The Lightning Flash, 2nd edition is an updated and much-expanded book of the core title in our trio of lightning books (The Lightning Flash, Lightning Electromagnetics and Lightning Protection) by the highly-regarded author, Vernon Cooray.
Providing the reader with a thorough background into almost every aspect of lightning and its impact on electrical and electronic equipment, this new edition is updated throughout and features eight new chapters that bring the science up to date.
This edition offers 8 new chapters with content ranging from basic discharge processes in air through transient electromagnetic field generation and interaction with overhead lines and underground cables, to lightning protection and testing techniques.
New topics in this edition include:
discussions of high-speed video recordings of lightning
rocket-and-wire triggered lightning experiments
tower initiated lightning discharges
upper atmospheric electrical discharges
attachment of lightning flashes to grounded structures
energetic radiation from thunderstorms and lightning
global lightning nitrogen oxides production
lightning and global temperature change
About the Author
Vernon Cooray is a leading Professor of lightning research at Uppsala University where his research interests include experimental and theoretical aspects of electromagnetic compatibility, electromagnetic wave propagation, lightning physics, lightning protection and the physics of electrical discharges. He is the vice president of the scientific committee of the International Conference on Lightning Protection and the editor-in-chief of the Journal of Lightning Research. He has published more than 270 scientific articles on lightning and electrical discharges including Lightning Electromagnetics (2012) and Lightning Protection (2009).
ABI - The Lightning Flash, 2nd Edition
Book readership
The Lightning Flash, 2nd Edition is a sound introduction for researchers and advanced students working in the field and will be of value for anyone designing, installing or commissioning equipment which needs to be secured against lightning strikes.
Book contents

The Lightning Flash 2nd edition (56 k)