Modeling and Dynamic Behaviour of Hydropower Plants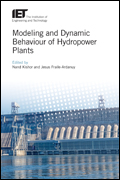 Book title: Modeling and Dynamic Behaviour of Hydropower Plants

Author: Nand Kishor and Jesus Fraile-Ardanuy (Eds.)

Year: 2017

Format: Hardback

Product Code: PBPO1000

ISBN: 978-1-78561-195-7

Pagination: 280pp
£81.90 Member price
£126.00

Full price
Description
Hydropower is a mature and cost-competitive renewable energy source, contributing the bulk of global renewable electricity. Over the past decades, computer technology has led to significant possible improvements in monitoring, diagnostics, protection and control through retrofitting of large plants, and there is potential for additional large plants as well as for smaller installations.
This book presents a systematic approach to mathematical modeling of different configurations of hydropower plants over four sections - modeling and simulation approaches; control of hydropower plants; operation and scheduling of hydropower plants, including pumped storage; and special features of small hydropower plants. The chapters address the fundamentals and the latest concepts, providing the most appropriate solutions for cost-effective and reliable operation, and include several real-world case studies of hydropower plants in operation.

About the Editors

Nand Kishor is presently serving as Associate Professor at Motilal Nehru National Institute of Technology Allahabad, India. From August 2012 to October 2013, he worked as a Marie Curie Experienced Researcher in the Electrical Engineering Department, Aalto University, Finland. Dr. Kishor has been working in the area of renewable energy systems, wide area monitoring systems, and smart grid technologies for many years, and has published several research papers in international journals and proceedings. He has been working on several externally funded projects and collaborated with researchers globally.
Jesus Fraile-Ardanuy is Associate Professor at Universidad Politecnica de Madrid, Spain. He has been involved in several public research projects related to renewable energy (hydro, wind, photovoltaic and tidal power), fault diagnosis, electric vehicles and active demand side. He has collaborated with different global companies in the electric energy sector, studying the dynamic behaviour of real hydropower plants and developing advanced controllers for wind farms.
Book readership
Modeling and Dynamic Behaviour of Hydropower Plants is essential reading for researchers involved with hydropower, as well as for advanced students in power engineering.
Book contents