Electrical Steels 2 Volume Set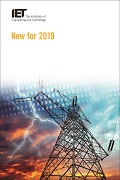 Author: Professor Anthony John Moses, et al.

Year: 2019

Format: Hardback

Product Code: PBPO157X

ISBN: 978-1-78561-974-8

Pagination: c.867pp

The arrival date is March 2019
Your account will only be charged when we ship your item.
£178.50 Pre-order price
£136.50 Member price
£210.00

Full price
Description
Electrical steels are critical components of magnetic cores used in applications ranging from large rotating machines, including energy generating equipment, and transformers to small instrument transformers and harmonic filters. Presented over two volumes, this comprehensive handbook provides full coverage of the state-of-the-art in electrical steels.
Electrical Steels Volume 1: Fundamentals and basic concepts covers –
• Soft magnetic materials; basic magnetic concepts; magnetic domains, energy minimisation and magnetostriction and methods of observing magnetic domains in electrical steels.
• Electromagnetic induction; fundamentals of a.c. signals; losses and eddy currents in soft magnetic materials and rotational magnetisation and losses.
• Anistropy of iron and its alloys; magnetic circuits; the effect of mechanical stress on loss, permeability and magnetostriction and magnetic measurements on electrical steels.
• Background to modern electrical steels; production of electrical steels; amorphous and nano-crystalline soft magnetic materials; nickel-iron, cobalt-iron and aluminium-iron alloys; consolidated iron powder and ferrite cores; and temperature and irradiation dependence of magnetic and mechanical properties of soft magnetic materials.

Electrical Steels Volume 2: Performance and applications covers –
• Localised characteristics of electrical steels; practical properties of electrical steels; other electrical steels and prediction of losses in electrical steels.
• Application of electrical steels in transformer cores; applications of electrical steels in rotating electrical machines; non-sinusoidal magnetisation and applications and magnetic building factors in electrical steel cores.
• Use of amorphous ribbon and nano-materials in transformer cores; electrical machine core vibration and noise; approaches to predictions and measurements of flux density and loss distributions in electrical machine cores.
• The application of international standards to magnetic alloys and steels; electrical steels and renewable energy systems; environmental impact of electrical steels; and typical performance data of commercial electrical steels.
About the Authors
Anthony Moses is Emeritus Professor of Magnetics at Cardiff University, UK where he was previously Director of the Wolfson Centre for Magnetics. His research focuses on aspects of the production, characterization, and application of soft magnetic materials. He has authored more than 500 papers. He previously served as Chairman of the U.K. Magnetics Society and Chair of the International Organizing Committee of the Soft Magnetic Materials (SMM) series of conferences.
Keith Jenkins worked at the British Steel Electrical Steels Research Department, Orb Works for over 35 years in a variety of technical and research functions, where he built up a wide network of contacts with other electrical steel makers, transformer and motor manufacturers, including Nippon Steel (Japan), Posco (Korea), ThyssenKrupp (Germany), AK Steel (USA), Siemens and ABB (Europe), RollsRoyce (UK). Recently he has been an honorary visiting professor at the Magnetics and Materials Group at Cardiff University's School of Engineering.
Philip Anderson is a Senior Lecturer in the Magnetics and Materials Group at Cardiff University's School of Engineering. He has 25 years of research experience focussing on the on the development, application and characterisation of soft magnetic materials. He is a member of the British and International Standards Committees on Magnetic Alloys and Steels together with the International Organising Committees of several major magnetics conference series.
Hugh Stanbury joined the Electrical Steels Research Department of the British Steel Corporation after graduating in Physics from Imperial College. He progressed to Technical Manager of Orb Electrical Steels, Cogent Power and was responsible for
Book readership
An essential reading for researchers in academia and industry working in the field; experts in manufacturing of electrical steels. Also aimed at advanced students; engineers and scientists in electrical energy generation and distribution sectors in general
Book contents
This information is provisional and will be updated prior to publication
Volume 1:

Chapter 1: Soft Magnetic Material
Chapter 2: Basic Magnetic Concepts
Chapter 3: Magnetic Domains, Energy Minimisation and Magnetostriction
Chapter 4: Methods of observing magnetic domains in electrical steels
Chapter 5: Electromagnetic Induction
Chapter 6: Fundamentals of A.C. Signals
Chapter 7: Losses and Eddy Currents in Soft Magnetic Materials
Chapter 8: Rotational Magnetisation and Losses
Chapter 9: Anistropy of Iron and its Alloys
Chapter 10: Magnetic Circuits
Chapter 11: Effect of Mechanical Stress on Loss, Permeability and Magnetostriction
Chapter 12: Magnetic Measurements on Electrical Steels
Chapter 13: Background to Modern Electrical Steels
Chapter 14: Production of Electrical Steels
Chapter 15: Amorphous and Nano-crystalline Soft Magnetic Materials
Chapter 16: Nickel-iron, Cobalt-iron and Aluminium-iron Alloys
Chapter 17: Consolidated Iron Powder and Ferrite Cores
Chapter 18: Temperature and Irradiation Dependence of Magnetic and Mechanical Properties of Soft Magnetic Materials
Volume 2:

Chapter 1: Localised Characteristics of Electrical Steels
Chapter 2: Practical Properties of Electrical Steels
Chapter 3: Other Electrical Steels
Chapter 4: Prediction of Losses in Electrical Steels
Chapter 5: Application of electrical steels in transformer cores
Chapter 6: Applications of electrical steels in rotating electrical machines
Chapter 7: Non-sinusodial Magnetisation and Applications
Chapter 8: Magnetic building factors in electrical steel cores
Chapter 9: Use of amorphous ribbon and nano-materials in transformer cores
Chapter 10: Electrical machine core vibration and noise
Chapter 11: Approaches to predictions and measurements of flux density and loss distributions in electrical machine cores
Chapter 12: The application of international standards to magnetic alloys and steels
Chapter 13: Electrical steels and renewable energy systems
Chapter 14: Environmental impact of electrical steels
Chapter 15: Typical performance data of commercial electrical steels