Distribution System Analysis and Automation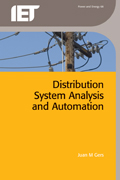 Author: Juan M. Gers

Year: 2013

Format: Hardback

Product Code: PBPO0680

ISBN: 978-1-84919-659-8

Pagination: 328 pp.
£52.65 Member price
£81.00

Full price
Description
Distribution systems analysis employs a set of techniques that allow engineers to simulate, analyse, and optimise power distribution systems. Combined with automation, these techniques underpin the emerging concept of the "smart grid". This is described as the entire network from electrical generating plants to customers, taking advantage of communication, advanced applications and information technology to guarantee a reliable and efficient electrical service.
Distribution System Analysis and Automation is based on over 30 years of experience in the field of power systems and combines theoretical concepts with real-world applications and MATLAB exercises.
Topics covered include;
• An overview of smart grid concepts and technology
• Distribution automation functions
• Fundamentals of distribution system analysis
• Short circuit calculation
• Reliability of distribution systems
• Reconfiguration and restoration of distribution systems
• Voltage/var control; harmonic analysis
• Modern protection of distribution systems
• Communications in smart grids
• Interoperability concepts in power electric systems
• Maturity models
About the author
Juan M. Gers is President of GERS, a consulting engineering company specialised in power systems and adjunct professor of Gonzaga University. He was lecturer at University of Valle for more than 20 years and Vice minister of Mines and Energy of Colombia in 2002. He is co-author of 'Protection of Electricity Distribution Networks" (IET, 2011), now in its third edition, and is the author/co-author of over 40 technical papers. Dr. Gers is a Chartered Engineer of the IET and participates in several groups of the Power System Relaying Committee of the IEEE.
Book review
Distribution automation and advance distribution feeder protection are some of the tools that are available to the PAC community in the 21st century to achieve these goals within the context of the Smart Grid. But their implementation requires a change of mindset and understanding of the new requirements and methods to meet them. This is where the book by Juan Gers comes into play. What makes it helpful is the fact that the author is a consulting engineer specialized in electric power systems and their protection and control.
PAC World, March 2016 Issue
Book readership
Distribution System Analysis and Automation will be of interest to consultants, manufacturers, contractors, utility engineers working with power distribution systems, academics and advanced students of power engineering.
Book contents
1 Smart Grid overview
1.1 Smart Grid for distribution systems
1.2 Definitions of Smart Grid
1.3 Benefits of the Smart Grid on distribution systems
1.4 Quality indices
2 Distribution automation functions
2.1 Electrical system automation
2.2 EMS functional scope
2.3 DMS functional scope
2.4 Functionality of DMS
2.5 Geographic information system
2.6 Communication options
2.7 Supervisory control and data acquisition
2.8 Synchrophasors and its application in power systems
3 Fundamentals of distribution system analysis
3.1 Electrical circuit laws
3.2 Circuit theorems
3.3 Power AC circuits
3.4 PU normalization
3.5 Load flow
3.6 Radial load flow concepts
4 Short circuit calculation
4.1 Nature of short circuit currents
4.2 Calculation of fault duty values
4.3 Fault calculation for symmetrical faults
4.4 Symmetrical components
5 Reliability of distribution systems
5.1 Network modeling
5.2 Network reduction
6 Reconfiguration and restoration of distribution systems
6.1 Optimal topology
6.2 Location of switches controlled remotely
6.3 Feeder reconfiguration for improving operating conditions
6.4 Feeder reconfiguration for service restoration
7 Volt/VAR control
7.1 Definition of voltage regulation
7.2 Options to improve voltage regulation
7.3 Voltage regulators
7.4 Capacitor application in distribution systems
7.5 Modeling of distribution feeders including VVC equipment
7.6 Volt/VAR control considering SCADA
7.7 Requirements for Volt/VAR control
7.8 Integrated Volt/VAR control
8 Harmonic analysis
8.1 General considerations about harmonics
8.2 Mathematical background
8.3 Verification of harmonic values
8.4 Parallel resonance
8.5 Series resonance
8.6 Validation of harmonic values
8.7 Verification of harmonic values
8.8 Resizing and relocation of capacitor banks
8.9 Models
8.10 Derating transformers
9 Modern protection of distribution systems
9.1 Fundamentals of overcurrent protection
9.2 Coordination across Dy transformers
9.3 Protection equipment installed along the feeders
9.4 Setting criteria
9.5 Protection considerations when distributed generation is available
10 Communications in Smart Grids
10.1 ISO OSI model
10.2 Communication solutions for the power system world
10.3 Transmission mediums
10.4 Information security as the crucial element in smart networks
10.5 IEC 61850 overview
11 Interoperability concepts in power electric systems
11.1 Elements required for interoperability
11.2 Information exchange processes
11.3 Data models and international standards
11.4 Implementation of information models in the Power Electric System (PES)
12 Maturity models
12.1 Smart Grid maturity model definition
12.2 Benefits of using a Smart Grid maturity model
12.3 Genesis and components of SGMM
12.4 Development process of an SGMM
12.5 Levels and dominions of an SGMM
12.6 Results and analysis obtained by SGMM
12.7 Example case