DC Distribution Systems and Microgrids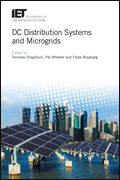 Author: Tomislav Dragičević, Pat Wheeler and Frede Blaabjerg (eds.)

Year: 2018

Format: Hardback

Product Code: PBPO1150

ISBN: 978-1-78561-382-1

Pagination: c.400pp

Stock Status: Out of stock

The estimated arrival date is October 2018
Your account will only be charged when we ship your item.
£81.25 Member price
£125.00

Full price
Description
DC electric power distribution systems have higher efficiency, better current carrying capacity and faster response when compared to conventional AC systems. They also provide a more natural interface with many types of renewable energy sources. Furthermore, there are fewer issues with reactive power flow, power quality and frequency regulation, resulting in a notably less complex control system. All these facts lead to increased applications of DC systems in modern power systems. Still, design and operation of these systems imposes a number of specific challenges, mostly related to lack of mature protection technology and operational experience, as well as very early development stage of standards regarding DC based power infrastructure.
This book provides an up-to-date overview of recent research activities in the control, protection and architectural design of a number of different types of DC distribution systems and microgrids. Practical requirements and implementation details of several types of DC distribution systems used in the real world industrial applications are also presented. Several types of coordinated control design concepts are shown, with concepts of stabilization being explained in detail. The book reviews the shortcomings and future developments concerning the practical DC system integration issues.
About the Editors
Tomislav Dragicevic is an Associate Professor at Aalborg University, Denmark. His fields of interest are control and design of stand-alone and grid connected DC and AC microgrids, and application of advanced modeling and control concepts to power electronic systems. He has authored and co-authored more than 120 technical papers. He serves as an Associate Editor for IEEE Transactions on Industrial Electronics and Journal of Power Electronics.
Pat Wheeler is a Professor and Head of the Department of Electrical and Electronic Engineering at the University of Nottingham, UK. In 1996 he became a lecturer in Power Electronic Systems with the Power Electronics, Machines and Control Group at the University of Nottingham, becoming a Senior Lecturer in 2003, and a full Professor in January 2008. He is also the Li Dak Sum Chair Professor in Electrical and Aerospace Engineering at the University of Nottingham, Ningbo, China. His research focuses on various aspects of power converter topologies and applications.
Frede Blaabjerg is Professor and Villum Investigator at Department of Energy Technology of Aalborg University, Denmark. His research encompasses control, power electronics, energy savings, reliability, power quality, solar power and wind power. He has been Visiting Professor at several Chinese institutions and has been a member of many international scientific societies and boards such as the ERC advanced grant panel 2010-2017 and Board of Danish National Advanced Technology Foundation, DK from 2007-2014. He has published widely in the field.
Book readership
It is a must-read for researchers and PhD students interested in working in the area of DC distribution systems and microgrids.
Book contents