Cogeneration and District Energy Systems: Modelling, Analysis and Optimization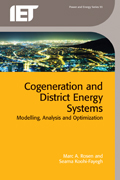 Book title: Cogeneration and District Energy Systems: Modelling, Analysis and Optimization

Author: Professor Marc A. Rosen and Dr Seama Koohi-Fayegh

Year: 2016

Format: Hardback

Product Code: PBPO0930

ISBN: 978-1-78561-126-1

Pagination: 344pp
£75.40 Member price
£116.00

Full price
Description
District energy systems use central heating and/or cooling facilities to provide heating and/or cooling services for communities and can be particularly beneficial when integrated with cogeneration plants for electricity and heat. This book provides information on district energy and cogeneration technologies, and the systems that combine them, with a focus on their modelling, analysis and optimisation.
Topics covered include;
brief introduction to district heating and cogeneration
background material on thermodynamics and exergy analyses
models for cogeneration, heating and district heating, and chilling and district cooling
descriptions and analyses of configurations for integrating cogeneration and DE technologies
economics of cogeneration and DE
environmental impact of cogeneration systems, including wastes and carbon dioxide emissions and their allocations
modelling and optimisation of cogeneration-based district energy systems accounting for economics and environmental impac
developments and advances in technologies and systems for cogeneration and DE
future directions

About the Authors

Marc A. Rosen is a Professor at the University of Ontario Institute of Technology in Oshawa, Ontario, Canada. He is former President of the Engineering Institute of Canada and the Canadian Society for Mechanical Engineering, and has served in many professional capacities, including Editor-in-Chief of several journals and a member of the Board of Directors of Oshawa Power and Utilities Corporation. Dr Rosen is an active teacher and researcher in energy, sustainability, cogeneration and environmental impact. Much of his research has been carried out for industry, and he has written numerous books. He was a member of an International Energy Agency Experts Group on cogeneration/district cooling, and the Canadian Experts Group on the same topic.
Seama Koohi-Fayegh is a Post-doctoral Fellow at the Department of Mechanical Engineering at the University of Ontario Institute of Technology in Oshawa, Canada. Her PhD research was supported by Ontario Ministry of Environment and was focused on the thermal sustainability of geothermal energy systems, and their system interactions and environmental impacts. Her master's thesis was on entropy generation analysis of condensation and won multiple awards at the school level and from the Iranian Society of Mechanical Engineering in 2009. Dr. Koohi-Fayegh's research interests include heat transfer, sustainable energy systems and energy technology assessment.
Book readership
This book is essential reading for academic researchers and advanced students in academia and industry working in energy engineering, particularly those with an interest in cogeneration and district energy systems.
Book contents