Synchronized Phasor Measurements for Smart Grids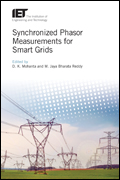 Book title: Synchronized Phasor Measurements for Smart Grids

Author: Dr M. Jaya Bharata Reddy and Prof. (Dr) Dusmanta Kumar Mohanta (eds.)

Year: 2017

Format: Hardback

Product Code: PBPO0970

ISBN: 978-1-78561-011-0

Pagination: 368pp
£75.40 Member price
£116.00

Full price
Description
The use of advanced technologies has made it possible to transform the power grid to an intelligent smart grid with real time control and monitoring of the system. The development of Phasor Measurement Units (PMUs) and the resulting possibility of real time measurements has enabled different power system applications to enhance the stability, state estimation, load estimation, power network protection, Wide-Area Security Assessment and reliability of the power grid.
Topics covered in this book include synchrophasors for improving the performance of power systems; optimal reliability criterion index (ORC) for optimal placement of phasor measurement Units (PMU); wide area measurement based power network protection; synchrophasor assisted visualization and protection of power systems; PMU measurements for enhanced power grid monitoring and protection; fault monitoring, detection and correction using synchrophasor measurements in modern power systems; transmission line fault detection, classification and localization in smart power grids; PMU-based vulnerability assessment of power systems; synchrophasor applications for load estimation and stability analysis; state estimation in the presence of synchronized measurement; PMU based wide-area security assessment.
About the Editors

Dusmanta Kumar Mohanta is a Professor at Birla Institute of Technology, Mesra, India. He is an IEEE senior member with over 26 years of experience in teaching and the industry. He was an electrical engineer in the captive power plant of the National Aluminum Company (NALCO), Angul, India. His current research interests include the power quality analysis, soft computing applications, power system planning, phasor measurement unit placement and reliability analysis. He also serves as editor for Electric Power Components and Systems.
M. Jaya Bharata Reddy is an Associate Professor at the National Institute of Technology (NIT), Tiruchirappalli, India. He has 12 years of experience in teaching and research in the area of digital relaying, power systems, transmission line protection, wide area protection (WAPs) and smart grid technology. He is a Senior Member of IEEE. He also serves as editor for Electric Power Components and Systems.
Book readership
Synchronized Phasor Measurements for Smart Grids is essential reading for professional engineers and researchers, as well as graduate and PhD students, in power systems research.
Book contents