Voltage Quality in Electrical Power Systems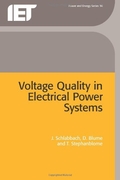 Author: D. Blume, J. Schlabbach and T. Stephanblome

Year: 2001

Format: Hardback

Product Code: PBPO0360

ISBN: 978-0-85296-975-5

Pagination: 248pp.
£67.60 Member price
£104.00

Full price
Description
Scope: Problems of voltage quality are becoming increasingly important with the growth in power electronics and the high-sensitivity of electronic equipment. Translated and updated from the German original published by VDE-Verlag, this book successfully details the theoretical and practical background to low voltage conducted disturbances including harmonics, voltage fluctuation/flicker and asymmetrical voltages. Each chapter is illustrated with practical examples and exercises based on the authors' experience of application problems, including measurement, assessment and remedial measures. The book is set in the context of European standards.
Book readership
Electrical engineers in industry, utilities, universities and companies interested in planning, operating and designing power system equipment.
Level
Industrial, professional; academic, reference
Book contents
Preface, Glossary, 1: Introduction; 2: Harmonics and interharmonics; 3: Voltage fluctuation and flicker; 4: Voltage asymmetries; 5: Measurement and assessment of system perturbations; 6: Remedial measures; 7 Notes on practical procedures; Annex, Index.