Maintaining Effective Engineering Leadership: A new dependence on effective process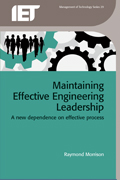 Author: Raymond Morrison

Year: 2013

Format: Hardback

Product Code: PBMT0290

ISBN: 978-1-84919-689-5

Pagination: 280 pp.
£44.85 Member price
£69.00

Full price
Description
A follow up to the author's book "Developing Effective Engineering Leadership" (IET 2002), Maintaining Effective Engineering Leadership explores a framework of skills and process as a means of maintaining leadership development.
The author argues that engineering leadership is the result of the development of four fundamental concepts: personal managerial skills, self-leadership skills, operational leadership skills, and organisational leadership skills. Therefore, for an engineer to progress into a leadership role they must possess and apply these skills in order to become a capable manager and leader.
Each of these concepts is explored in turn with examples taken from the space shuttle Columbia disaster in 2003 to show the importance of these processes and skills and highlight what can potentially happen when they are ignored.
The book also introduces the Capability Maturity Model which provides organisations with appropriate processes and knowledge guidelines to ensure effective leadership to avoid such disasters.
Topics covered include;
• A good process gone bad – setting the stage with the Columbia disaster
• The importance of process
• Leadership is guiding a process oriented organisation
• Maintaining vigilance for product and the need for change
• The financial impact on process and operations
• How do we change – what do we need to do?
• Individual capability
• Recommendations for process and capability in today's industries
About the author
Ray Morrison has a distinguished career working in the aerospace industry and engineering education. He is the recipient of the EPDA National Fellowship and has been an active member of the Society of Automotive Engineers, the Society for Manufacturing Engineers and the American Society for Engineering Education.
Book readership
Maintaining Effective Engineering Leadership is essential reading for engineers with a management focus who aim to improve their personal leadership skills. This book will also appeal to advanced undergraduate and graduate students of engineering and management courses.
Book contents
1  A good process gone bad: setting the stage with the Columbia disaster
Effective use of process: the name of the game, this occurs
in more than just the space race and the Shuttle Program
The Columbia Report: a short review
What do we think went wrong and what can be done about it?
2  The importance of processes
 A brief history of process engineering
 Applying the principles of process engineering
 Stop 'fixing' that broken process for the umpteenth time
 Business process re-engineering only works when applied and supported
Taking the time to plan and fix processes
Are there stakeholders in each action plan for the processes?
Developing a management plan
Process is more than following ISO-9000 or similar management plans
3  Leadership is guiding a process-oriented organisation
The fundamental flaw of 'heroes'
The evolution from hero-based to team-based
Leadership in a capability maturity model
Programme and project management fundamentals
The importance of dealing with the culture
Seven characteristics of organisational culture
Establishing effective administrative networks
The importance of developing a system for followership and membership
The importance of teamwork in a process environment
Wrap up on leadership in process organisations
4  Maintaining product vigilance and the need for change
Learning to manage change as a way of life
Developing an acceptance for change with adaptation and consideration
Creating an entrepreneurial environment
Company history and the need for change
Lean management as a means for change and improvement
5  The financial impact on process and operations
Being accountable for process finances
Direct versus indirect costing and accounting
Concern for stockholder return versus stakeholder investment and return
The negatives of top management salaries and bonuses
6  How do we change – what do we need to do?
The first step
The second step
The third step
The fourth step
The fifth step
The sixth step
The seventh step
The eighth step
The ninth step
The tenth step
7 Individual capability
Repeatability: the key process for leaders and their employees
Repeatability: focus on project and programme management
8 Recommendations for process and capability in today's industries
Recommendation 1
Recommendation 2
Recommendation 3
Recommendation 4
In conclusion